Delta Gamma's 68th Biennial Convention is coming up this summer in Phoenix, Arizona. If this is your first Convention, you may wonder what to expect. A few Executive Offices employees compiled a list of tips and things to be aware of for first time attendees.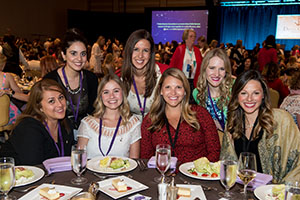 What to pack:
The number one tip everyone suggests is to dress in layers! Bring a sweater, light jacket or blazer. Phoenix is hot in the summer, but inside the A/C is often on full blast. There are times when you will need to walk outside to get from building to building. Prepare for the drastic change in temperatures.
Try not to wear the same pair of shoes two days in a row – no matter how comfortable! You spend a lot of time walking from one place to another and switching off shoes helps alleviate pressure on parts of your feet. Another suggestion is to carry flip flops in your bag to change into for the longer distance walking.
In continuation of what to wear, this is considered a business casual event. Dress appropriately and remember that if you are asked to come on stage, the stage sits a few feet higher than the audience. No short dresses or skirts, shorts, t-shirts, etc. should be worn during Convention. Do dress comfortably though.
There is an Anchor Yoga event, so if you would like to participate, pack workout clothes.
The Awards Banquet and Foundation Banquet are cocktail attire, so make sure you have two nicer outfits. For this event, we suggest something you would wear to a wedding or Preference Round. You may see some members dress up a little more and wear formal attire. Suits and knee length skirts/dresses are also appropriate.
For collegians, a pool party will be hosted on Wednesday, so make sure to bring a swimsuit.
Consider bringing sunscreen and sunglasses! There is always a possibility of being outside. You may not need them, but it's always good to be safe.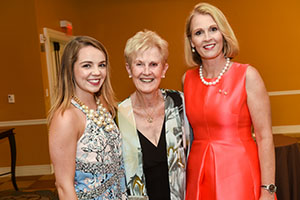 What to do:

Make friends! Network! There are not many opportunities for all these outstanding women to be in the same place at once – take advantage of that. Introduce yourself to your regional team and other volunteers you work with often. If you have them, bring business cards so it is easy to exchange information.
Each geographical region will have a basket to drop notes. Make sure to check it daily. Delta Gammas love writing thank you notes and greeting cards to sisters at these events, so you may have a note waiting for you.
Keep your program with you at all times or have the Guidebook app downloaded on your phone. You will not be sorry!
Put your badge and nametag in your tote each night, so you don't forget it in the morning. You will need your nametag to enter each event. (You will receive a tote bag when you arrive, but feel free to bring your own bag you love.)
When you sit down at a meal, wait for the opening remarks before digging in on any food that's already on the table. If you would like to refresh your memory on any other etiquette tips, check out the Etiquette Handbook on the DG website.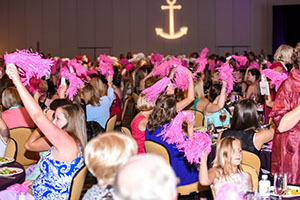 What to expect:

Come ready to share ideas! Convention is a unique experience where members from all across North American come together to conduct business, celebrate sisterhood and share about Delta Gamma experiences.
Realize that you might share a room with someone you do not know. Unless you are paying for a single or designated who you would like to be your roommate during registration, you will most likely not know your roommate.
Read all Convention related emails before getting to Convention. You will want to feel comfortable with the schedule, General Session agendas and the Council election.
There will be a cash bar available before and during dinners at Convention. Those 21 years or older may choose to partake. Please be mindful of your tolerance.
If you are a delegate, do not plan to leave the hotel during Convention. Honestly, you won't have time. Every day is full of programming and you will be exhausted at the end of it.
One morning there will be an Initiation for alumnae initiates. This is an exciting event to witness!
Convention is full of sisterhood, Delta Gamma love, anchors, idea sharing, celebrations and education. As fun of an event as it can be, do not forget that it is an honor to be there if you are a required attendee. Remember to be respectful of your fellow sisters and presenters. If you come prepared, this will be one of your favorite Delta Gamma memories!
****
To find more information on Convention, visit the Events page on the website.