She's the Pro: Hosting Advice for Your First Post-Pandemic Gathering
By Caryn Ross, Alpha Iota-Oklahoma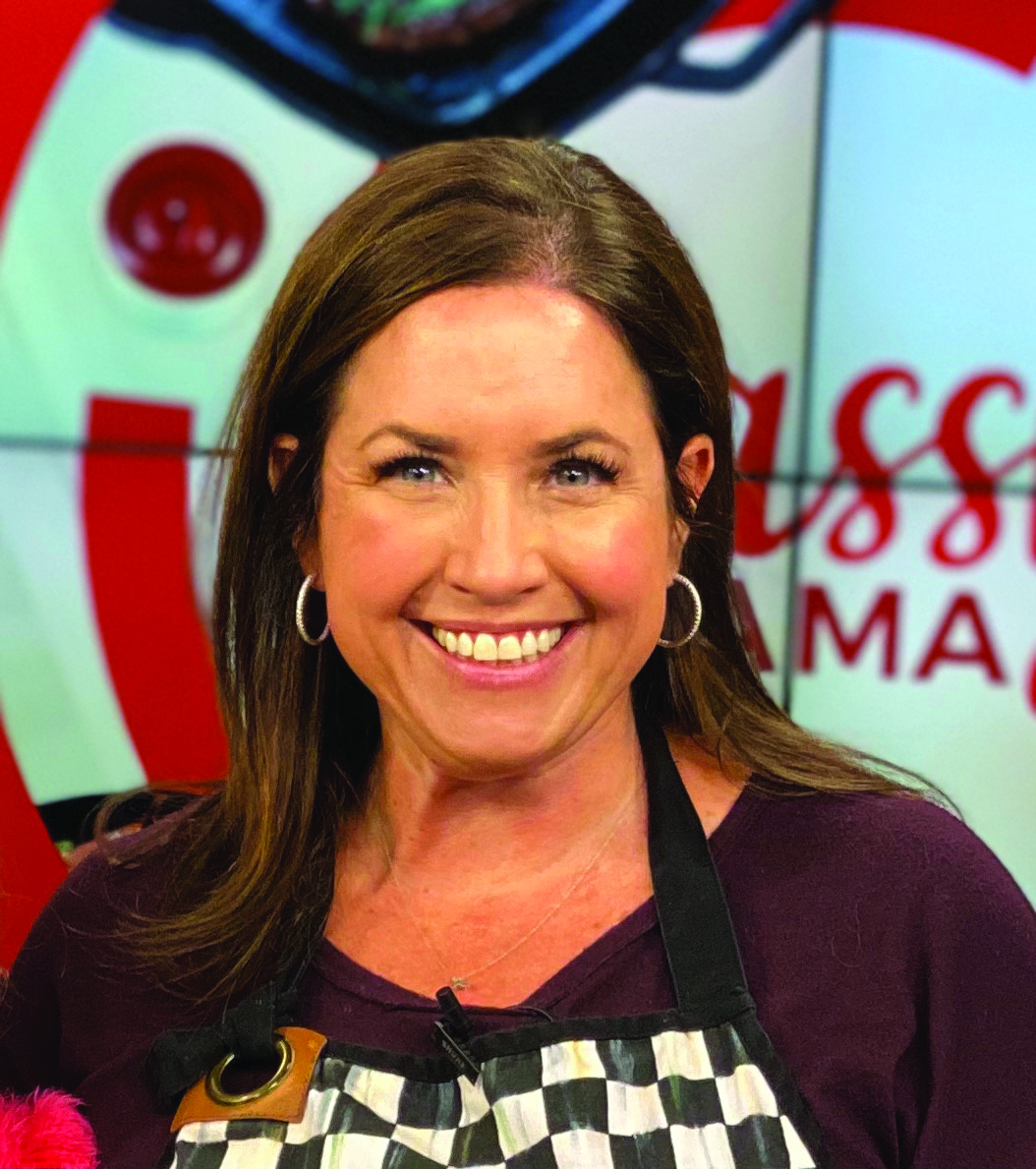 Looking back at my college days some 30 odd years ago, I was a sassy-mouthed sophomore at Alpha Iota-Oklahoma looking for a place to belong as a new member. I hadn't quite found my niche, but I had certainly found the areas I could rule out. Fact was, I hated to bounce. Singing and dancing were not my forte and the whole process challenged me to find where I could contribute and thrive.

Thankfully it seems I had a divine appointment to keep in the kitchen. You see, our cook had quit mid-week and she oversaw the cooking of all the party foods we were serving for an event happening the very next day and finding a caterer at the last minute in Norman, Oklahoma, was not going to happen. So, I raised my hand and told my sisters how I loved to cook, and I had spent years in home economics entering cooking contests, preparing dishes for my friends and family and that they could absolutely trust me to cook for the hundreds of people we were expecting in less than twenty-four hours. I'm still a bit shocked they fell for it, but that event was a hit and my gift of hospitality and a fiery passion for cooking was lit.
Since leaving AI all those years ago my passion for cooking and serving others has withstood the test of time. These days you can find me sharing my recipes, tips and tricks with viewers on CBS News 9 in Oklahoma City, Oklahoma. Prior to the COVID-19 pandemic I spent my time in the news studio with my coworkers filming cooking specials, but social distancing has made that harder and after a year of hardship I have found that more and more of us are looking for ways to get outside our homes and travel again safely without sacrificing fun. We also want to know how we can socialize with our friends and family but do so responsibly. Lucky for ya'll, I have that covered in spades.
Post-Pandemic Hosting Tips
Gather Outside: Outside gatherings are the safest way to get together sooner rather than later.
Think ahead: What holidays or events would you like to host? By doing this one simple step, you allow yourself to plan accordingly. Easter celebrations, showers or Fourth of July will require different arrangements of the furniture, décor and table preparations.
Prepare your area: As luck would have it, spring is just around the corner. Dust off the patio chairs and consider giving them a quick spray of paint from the hardware store. This season's hot new color is turquoise, and if you own white metal side tables you can paint and seal with UV protectant clear coat spray in a weekend and you'll be amazed at the transformation.
The fabric store is your friend! Measure your serving surfaces and combine that with the list of events you plan to host and purchase fabrics to cover the tables. Look at Pinterest for ideas on color and patterns and how to layer them for a festive effect. You'll be amazed at the money you'll save buying fabric verses traditional tablecloths, and you can easily store them in plastic containers to use again the following year.
Shop online marketplaces for décor: The best time to shop for Fourth of July is at the end of winter since no one has even given it a thought yet. You will be shocked at both the selection you can find and the prices. Also, consider purchasing mason jars. They are my go-to for customizable party décor and serving pieces.
Consider your Menu: Everyone loves a good spread of food, and this is what will make or break your party.
Keep it Simple: I tell people all the time to be sure to enjoy their own party. To ensure this happens keep it extra simple by choosing one entrée, appetizer or dessert and build your entire menu around that choice. For example: If you have a shower for your daughter and she loves lemons consider something as simple as individual lemon cakes in a jar! (Whoever first thought this idea up is a genius because these mini cakes bake quickly and are adorable). You could also offer a create your own lemonade bar where guests add a flavored syrup of their choice and you can serve individual smoked salmon tea sandwiches with a tangy lemon caper aioli (which is nothing more than a fancy-pants sauce made from mayonnaise).
Use seasonal produce: Cooking with in-season produce is a sure-fire way to save money and ensure the freshest ingredients in any dishes you serve. The fact is no one enjoys eating hard translucent tomatoes in December. They look and taste better in the summer. If you are having an Easter or Mother's Day gathering, use strawberries. They never taste as sweet as they do in the spring. I promise you'll be happier with the results in your cooking.
Work ahead: I always feel terrible for the hostess who is running around trying to cook and entertain at the same time. A week before your party, create a daily list of items to complete to make party day easier. I start by looking at my menu and chopping and slicing everything to be stored and labeled in bags. Prepare all the dips or refrigerated items and store them in their serving dishes covered in the refrigerator up to two days before the party. The day before the party, I set up my serving areas with the platters, bowls, etc. for easy filling the day of the party. I also arrange the flowers and set the table where the guests will be dining. On the day of the party, you'll be more relaxed thanks to all your pre-planning and all you'll have to do next is look forward to greeting your guests and settling in to party!
Sassy Tip - Set candles you plan on lighting in the freezer for 20 minutes before lighting. Your candles will burn much slower!

Lemon Layer Cake with Fresh Lemon Curd
1 box yellow cake mix
1 (4.3 ounce) instant lemon pudding mix
1/2 cup vegetable oil
4 large eggs
1/2 cup milk
1 cup sour cream or 2% Greek yogurt
1 teaspoon lemon zest
2 tablespoons fresh lemon juice
1 8 oz. container Cool Whip
½ teaspoon vanilla
½ cup white chocolate chips
Fresh Lemon Curd
4 large egg yolks, room temperature
1/2 cup sugar
3 tablespoons fresh lemon zest
1/3 cup freshly squeezed lemon juice
pinch of salt
7 tablespoons unsalted butter, cut into small pieces
Preheat oven to 350 degrees. Spray a 9x13 baking pan with non-stick cooking spray. Set aside. In a large mixing bowl mix together the cake mix, lemon pudding mix, vegetable oil and eggs with an electric mixer. Mix together for 2 minutes making sure to scrape the sides. Add in the milk, sour cream, lemon zest and lemon juice. Beat for 1 minute. Pour the batter into the cake pan. Spread evenly and then tap your pan on the counter. This releases any air bubbles and will make for a more even cake. Place into the hot oven and bake for 25-30 minutes or until a knife comes out clean from the center. Poke the cake all over with a skewer and spoon lemon curd over the top of the warm cake. Cover with plastic wrap and chill overnight.
How to make homemade lemon curd: Pour 1 cup of water in a medium saucepan and bring to a simmer. In a small/medium sized metal bowl (must be able to fit comfortably over the top of the saucepan thus making a homemade double boiler) whisk together the egg yolks, sugar, lemon zest, lemon juice and salt. Put the bowl over the simmering water and whisk gently till the mixture thickens up to the consistency of a thick pudding. (Another way to tell it is done is when lemon curd coats the back of a wooden spoon.) Remove the saucepan from the heat and whisk in the butter piece by piece till the curd is thick and shiny. Place a piece of plastic wrap directly on top of the curd. This will keep the curd from forming a skin. Chill for at least 4 hours before using.
To make the frosting: Fold the vanilla into the Cool Whip. Spread the Cool Whip on top of the cake and sprinkle with white chocolate chips.
To make cake in mason jars: Use clean mason jars (you can choose what size). Fill jars ½ way and set on a baking sheet. Bake till skewer comes out clean from the center. Times will vary based on the size of the jar chosen. Proceed with recipe as written.