For Immediate Release:

Contact:
Jennifer Magro Algarotti, Ph.D.
Director of Strategic Communications
(614) 487-5507
jennifera@deltagamma.org
Roxanne LaMuth to Retire as Delta Gamma Foundation's Executive Director
Columbus, Ohio [October 18, 2019]— Delta Gamma Foundation announces Roxanne Ebner LaMuth will retire from the role of executive director and transition to a member of the development team by October 1, 2020.
LaMuth has served as executive director since 2014, after being promoted from director of development, and has been a member of Delta Gamma Executive Offices professional staff for more than 15 years. Gifts to the Delta Gamma Foundation increased in LaMuth's first year in office by 145%. She has been a great partner to the Delta Gamma Fraternity's leadership, helping generate a relationship statement and joint objectives, accomplishing a goal the organization had held the past 15 years.
"Roxanne has been a loyal Delta Gamma leader for many years … Her enthusiasm and energy coupled with a deep love for her Fraternity and Foundation endear her to all," said Jane Williams Simmons, chairman of Delta Gamma Foundation Board of Trustees.
LaMuth has strategically engaged in fundraising efforts surrounding the organization's sesquicentennial in 2023 and has laid the groundwork for success. In recognition of her achievements as an executive director, LaMuth was recently named the 2019 recipient of the William D. Jenkins Award for Outstanding Foundation Professional by the Foundation for Fraternal Excellence.
The Delta Gamma Foundation Board of Trustees has appointed a selection committee that will lead the search for the next executive director. LaMuth will remain in the executive director position until a new executive director is named.
"I feel blessed that my transition presents a wonderful opportunity to continue working for this beloved organization and to continue cultivating the exceptional relationships of our donors and leaders, both of whom are vital to our success," says LaMuth.
A public announcement of the nationwide search is forthcoming.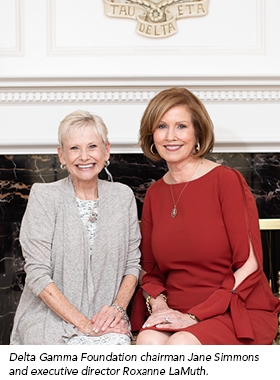 About Delta Gamma Foundation: Incorporated in 1951, the Delta Gamma Foundation is a 501(c)3 nonprofit organization formed as a complement to the Delta Gamma Fraternity, creating a vehicle for members to promote the educational interests and social responsibility referenced in Article II of the Fraternity Constitution. The Delta Gamma Foundation fosters lifetime enrichment for members, promotes Service for Sight and partners with the Fraternity to ensure the future of our sisterhood.