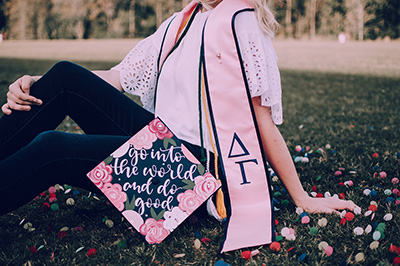 You hear it all the time, that Delta Gamma isn't for just four years, it's for life. As a collegian in Delta Gamma you meet some of your best friends, make some of your best memories and grow as an individual, thanks to a sisterhood that is 144 years old. This time of year, many of Delta Gamma's collegians are preparing for their next stage as members of this organization. They are being installed as alumnae. During this transition, we encourage you to stop and remember all the Delta Gamma moments that positively impacted your collegiate experience.

Remember the moments of chatting with sisters before chapter meetings, of telling stories of weekend odysseys and incessant studying. Remember spontaneous, late-night donut runs in the middle of finals week. Remember gathering together to get ready for socials, mixers or football games. Remember Bid Day, both as a new member and as an initiated member. Remember those weekends when it seemed like everyone left campus except a few members, when you became close with sisters whom you barely knew beforehand. Remember philanthropy events and Panhellenic pride. Remember Firesides, when sisters shared why they love DG. Remember the Golden Anchor, reminding you there is always hope. Remember our rituals, and their significance to our sisterhood. Remember the house, lodge or room on campus that brought all your sisters together once a week.
Remember the moment you knew that Delta Gamma was home.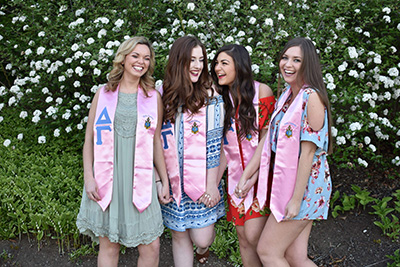 After graduation, sisters move away to start new jobs or continue their education. It is harder to make plans to see each other, when there are no longer anchored events bringing you together. Though you may want to mourn the change, remember that it's also these same sisters who will make the next period of your life easier. As you move to new cities, you can stay connected by finding the local alumnae group, advising a collegiate chapter or just by simply staying in touch with sisters. Delta Gamma is so much more than the four years you're in college, it is about the connections you make that last a lifetime and the instant friendships you share with members all over the world.
As you prepare for the changes ahead, look back on your collegiate years and remember the impact Delta Gamma has had on your life. Remember, Delta Gamma's impact doesn't end after college. No matter where you find yourself, a sister will undoubtedly be near. Wherever life brings you, remember Delta Gamma.
****