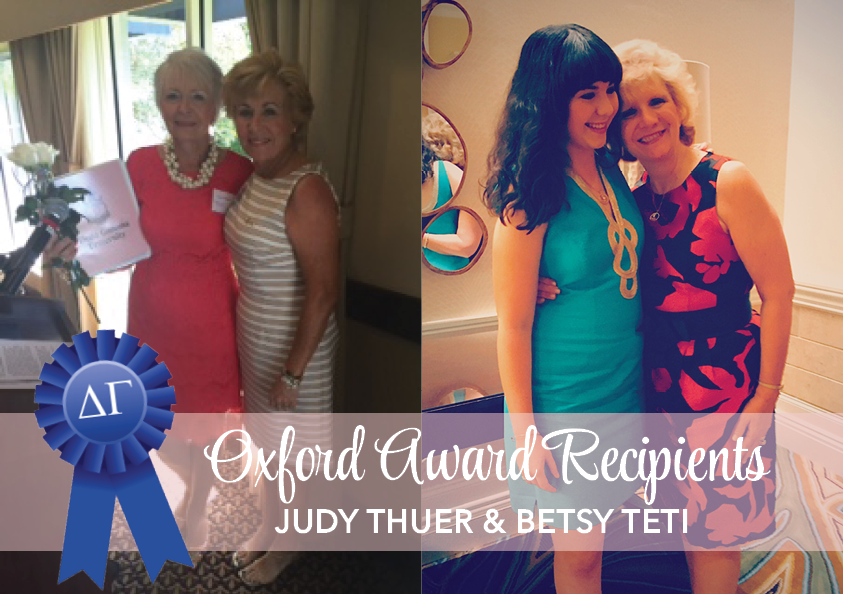 Judith (Judy) Galloway Thuer, Gamma Omicron-Indiana State, lets her Delta Gamma spirit shine in each of her volunteering roles! The Sarasota alumnae chapter proudly nominated Judy in recognition of her lifetime philanthropic commitment on a personal level, such as mentoring cadet and student teachers, partnering with a low-income mother to realize the goal of her Habitat for Humanity home, and on a larger scale, her leadership on the Plantation Community Foundation Grants Award Committee, raising funds and providing grants to local organizations. Judy, on the left in pink, was overwhelmed to receive the Oxford Award this year. Just as those who know her are overwhelmed with admiration for all the good that she does!
Elizabeth (Betsy) Lynn Teti, Gamma Epsilon-Kent State, has a "special gift of knowing how to relate to and gently lead people" and she has capitalized on that gift by "Doing Good" for countless local, national and international philanthropic organizations. We celebrate her leadership as a former Delta Gamma Fraternity Council officer, and member of our Board of Advisors, and mother to fabulous legacy, Julia Teti, Rho-Syracuse. Others recognize her presidency of the Pittsburgh Junior League where she helped raise more than $1.4 million for charity, and efforts through the D.A.R. and C.A.R. to support reconstruction of the Fort Pitt Blockhouse. The Pittsburgh South Hills alumnae chapter was thrilled to recognize Betsy, pictured at right in black with her lovely DG daughter, with the Oxford Award in the spring of 2016.
The Oxford Award – The Oxford Award recognizes alumnae who exemplify the Delta Gamma philosophy of community service through volunteer and philanthropic activities. Recipients bring a sense of pride to their alumnae groups through outstanding community efforts and involvement. Find out how to nominate someone for the Oxford Award here.