Mission Moments: Individual Member Support
Sierra B., Alpha Nu-USC, Sisters Helping Sisters: Need- Based Scholarship recipient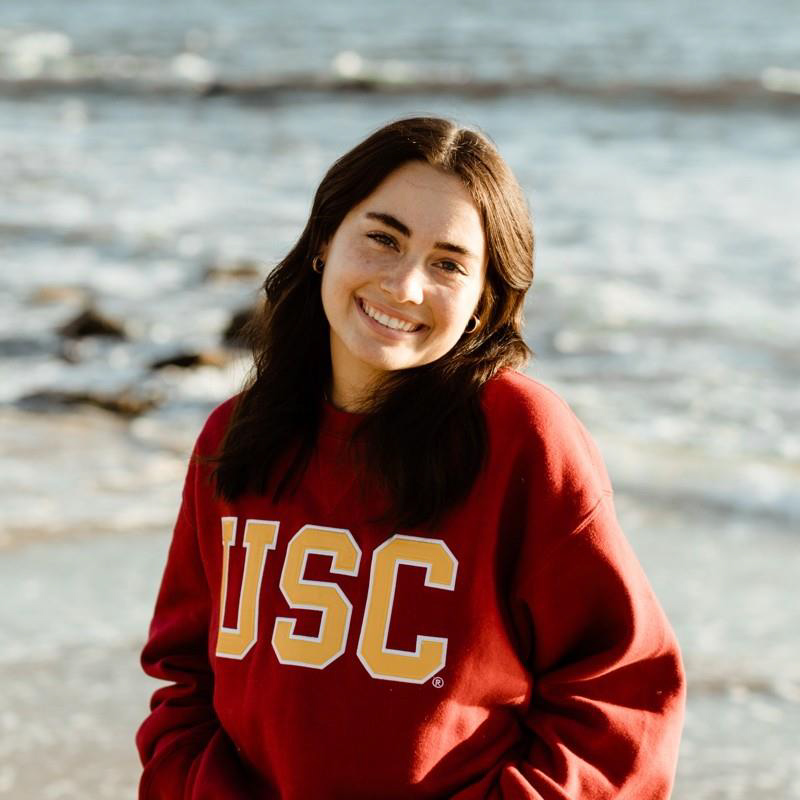 "As a first-generation college student, I knew little about Greek life. I was embarking on a journey that was uniquely my own. During recruitment on Zoom, I was worried the virtual barrier would ruin my ability to get a sense of the dynamic of each house, but Delta Gamma's big personality still shined through my computer screen. When I was finally able to physically see the house and all my new sisters, I had no doubt in my mind that DG was the place for me. The relationships I have developed are so special to me, and I feel so lucky to know so many strong, creative individuals who inspire me every single day. Being a Delta Gamma means being selfless, passionate, and strong. I am reminded of my reasons each and every day when I walk through my chapter's red door.
I am thankful that Delta Gamma supports its members in many ways. One of those is the Sisters Helping Sisters: Need-Based Scholarship. I was encouraged to apply as it was a great opportunity to alleviate the financial burden my college education has placed on me and my family. I have taken out loans for my education and it is not a great feeling knowing I will have massive debt weighing on me. At times I felt discouraged to be in this position, but this scholarship re-ignited my spark to believe in myself and also to lean on Delta Gamma in times of need.
Receiving the Sisters Helping Sisters: Need-Based Scholarship has inspired a greater sense of confidence in myself and my future. I am motivated to keep pushing and to keep myself grounded. I was reminded that I am worth taking a chance on and that feeling in itself keeps me going. I am doing this for my family, myself, and Delta Gamma now. My gratefulness goes beyond words, and I can't wait to keep growing as a student, sister, and individual moving forward.
Delta Gamma attracts such amazing individuals. I hope that these programs will continue to exist because we should always looking for ways to help each other. The message and foundation of Delta Gamma are shown through these programs, and I feel it is important to keep these traditions because they remind members of the true meaning of joining this organization."
Linzie Hopkins, Gamma Beta-Tulsa, merit-based graduate fellowship recipient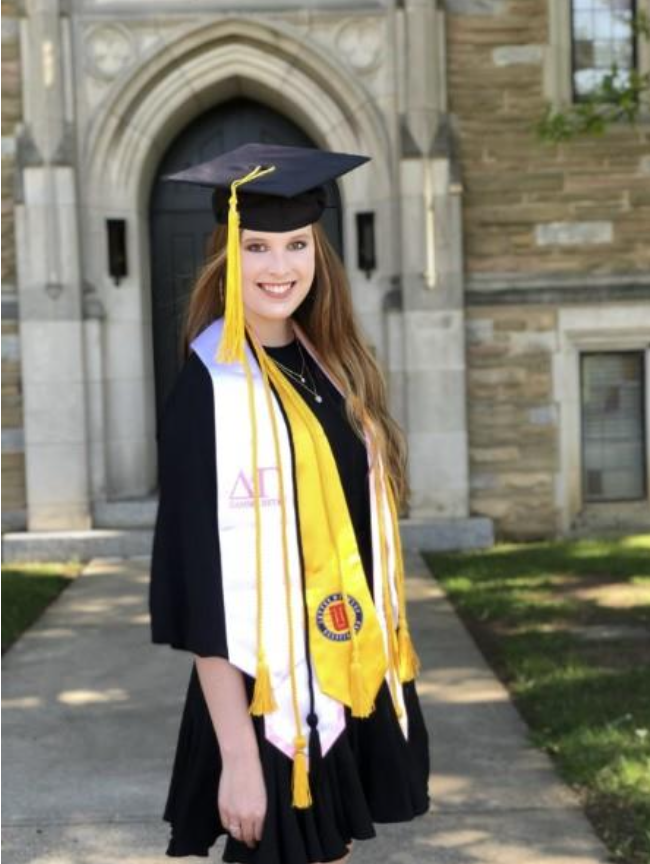 "I graduated from the University of Tulsa with my degree in Speech-Language Pathology in 2021 and have just finished my first year as a graduate student from the University of Oklahoma in Clinical Mental Health Counseling to become a Licensed Professional Counselor. My time in Gamma Beta chapter was incredibly special as I was surrounded by incredible and inspiring women who gave me wonderful memories that I continue to cherish. I served a multitude of positions such as vp: communications, which gave me even more experiences and opportunities to grow as a leader. Gamma Beta taught me more about fostering meaningful relationships and being a champion for others,
which inspires me every day in the work that I do in the mental health field. My goals are to bring mental health access to the people in my community despite any barriers they may face.
Being a Delta Gamma member means being a person of integrity, strength, and community. I work to do good in all my endeavors, true to the principles that Delta Gamma has meaningfully instilled in me. Being a Delta Gamma sister means that I carry with me an unconditional positive regard for others, and practice which Delta Gamma fosters in all its members.
Receiving a Delta Gamma Merit-Based Graduate Fellowship will impact my life in various ways. It brings financial relief as I fund my education myself while also balancing my work and internships. It also brings peace because I can focus further on my studies with the reduced financial pressure for the upcoming semester. Most importantly, it brings me incredible honor because I know that others believe in me and my ability, and my vision to Do Good for my community as I work to make an impact in Tulsa's mental health access.
When I finish my graduate degree in Clinical Mental Health Counseling, I will take my exams and placements to become a Licensed Professional Counselor in the state of Oklahoma. This degree will grant me the ability to pursue my dreams in the mental health field where I will continue to work to bring mental health access to my community despite financial, geographical, or stigmatizing barriers. I plan to continue working in community mental health centers to connect with members of my community and bring a pillar to hope to the people I learn from and treasure every single day.
It is so incredibly important for donors to continue ensuring programs like the Merit- Based Graduate Fellowship Program because it proves to members that Delta Gamma continues to care for its sisters even beyond the undergraduate experience. I still remember learning about these scholarship and fellowship programs during Recruitment, and the devoted support that Delta Gamma gave its sisters throughout their academic careers and personal lives is what truly resonated with me and made me want to be a part of a sisterhood so sincere and true. I know the financial and personal impact this award has given me, and I now vow to myself to pay it forward one day when I can give support to my DG sisters who wish to further their education because of how much it means to me."