Recently, we had the honor of receiving a thoughtful letter from one Ed Sieffert, regarding his experience and interactions with Delta Gammas at the California International Marathon (CIM). CIM is a qualifying race for the Boston Marathon, and about 150 of our collegians in the Sacramento area assist with the United States Association of Blind Athletes (USABA) there. We had collegians from Delta Eta-Cal State, Sacramento; Delta Epsilon-University of the Pacific; and Delta Chi-UC Davis assisting blind athletes as guides, servers at the dinner held on Friday before the race and tour guides around the city of Sacramento. The experience of seeing Delta Gammas work toward our mission of serving the blind and visually impaired was a special one for Ed, who's stepdaughter was recently initiated as a Gamma Tau-Texas Christian and who's sister was an initiate of Gamma Alpha-Tennessee. Below is the letter we received:
To Whom It My Concern,
I am writing the email because I would like to share my experience with Delta Gamma last weekend at the California International Marathon.
My name is Ed Sieffert. I am a volunteer guide with an organization called Achilles International (Nashville Chapter). Achilles can be described as follows:
This non-profit organization has chapters and members in over 65 locations within the United States and abroad. Every day, in parks, gyms, and tracks all over the world, Achilles provides athletes with disabilities with a community of support. Able-bodied volunteers and disabled runners come together to train in an environment of support and community. Within this community, runners gain measurable physical strength and build confidence through their sense of accomplishment, which often transfers to other parts of their life.
A group of 13 (including seven sight impaired individuals) of us from Nashville headed out last week to Sacramento to guide/run the California International Marathon (CIM).
I have past familiarity with DG because my sister was a DG many years ago at the University of Tennessee. Recently, my stepdaughter, Hayden Lowe (freshman at TCU) was initiated as a DG this past quarter.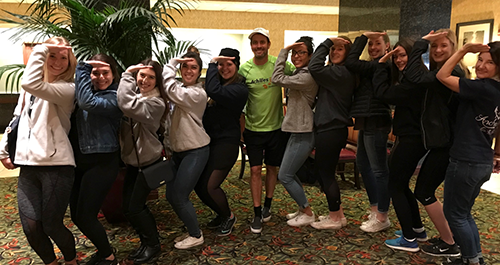 Ed Seiffert posing with Delta Gammas at CIM.



As I began to do some research about the CIM a few weeks back, I saw that Delta Gamma was helping the USABA and some other groups. After I realized it was the woman's sorority, I became excited because I have become very familiar with DG recently because of Hayden and I would get to see a group I had a relationship with. I was not aware at the time of DG's National affiliation with the sight impaired.
With all that being said, I was absolutely blown away by the entire group of DG's that supported the effort the whole weekend. I could go on and on with great detail, but then this email would be 20 pages long. Let me just say that the ladies were phenomenal in support, effort, knowledge, kindness, smiles etc. From students (mostly Sacramento State, UC Davis, U of Pacific), to alumni, advisers etc., absolutely amazing all the way around. I don't want to mention any names because I only got a few of them and I don't want to necessarily single anyone out, let me just say they were all GREAT.
Actually, I would like to mention one individual by name. Kate from Salisbury in Maryland (Unfortunately, her last name escapes me). She was the national winner of the contest to guide a sight impaired runner at the CIM. You made an excellent choice. I'm not sure you could have picked a better ambassador for your organization. She is a special lady and will go far in her future endeavors.
I will wrap this up now. Please accept my and everyone involved with the event's gratitude for any outstanding effort and job well done.
Sincerely,
Ed Sieffert
****