Motherhood comes with its ups and downs. For Jamie Cooney Heard, Gamma Alpha-Tennessee, this has been true. Jamie lost her son William in a tragic accident over a year ago. While many would let this heartbreak defeat them, Jamie and her husband, Daniel, have continued to grow and support the community by giving back. Jamie runs a Facebook page honoring the life of William, Always #WillyWednesday. She continues to celebrate his life and ensure his time with us is never forgotten.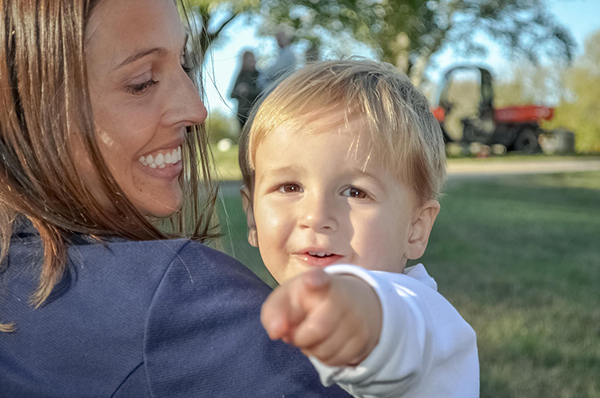 Jamie Cooney Heard, Gamma Alpha-Tennessee, with son William before his passing.
On December 11, 2015, while both parents were away at work, William choked on a bite of chicken noodle soup. William and their daughter, Madeline, were being cared for by a nanny. She attempted to give him the Heimlich maneuver, but was unable to dislodge the food. When the paramedics arrived, they also attempted to dislodge the food with no success. They rushed William to the hospital. On arrival, his heart had already stopped. William's heart began to beat again after 11 rounds of medicine, though there was no brain activity.
William remained stable and unresponsive. Jamie and Daniel were left with a difficult decision. He was then transported to the Children's Hospital at Vanderbilt. In her recount of the difficult time, Jamie mentioned turning to God and prayer to find the answers. She continuously prayed and repeated for "God's will to be done." The hospital approached the family with an option: for William to become an organ donor. They knew this was the best decision for their family and son. Both William's kidneys and heart were used in successful transplants.
Soon after, a friend of Jamie's spoke of a story about a young girl in Chicago named Ava Martin. Ava had just received a heart transplant. With a little bit of research, it seemed like Ava might just be the recipient of William's heart. Jamie found a Facebook group for Ava and reached out. Ava's mother soon responded and together they determined William was Ava's donor. It was a sign of light in such a dark time. The Heard and Martin families have continued to support each other and visit on occasion. Jamie is looking forward to an upcoming visit from the Martins Mother's Day weekend. It will be the first time their entire family has come to Nashville, where the Heards live.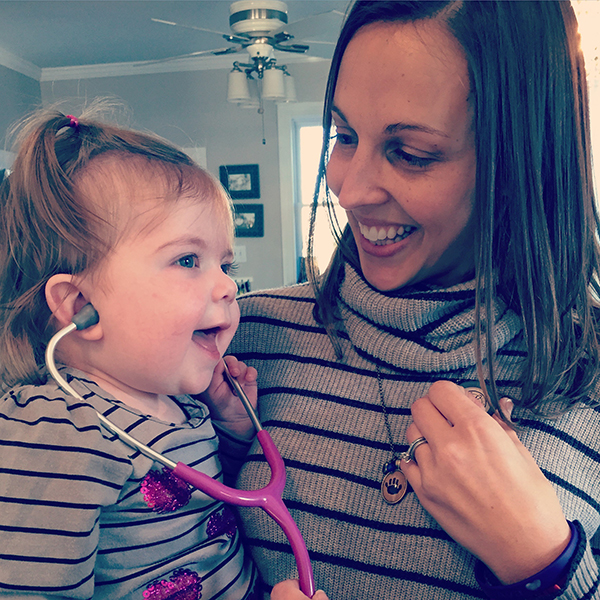 Jamie Cooney Heard with Ava Martin.
Many of Jamie's Delta Gamma sisters attended the viewing and memorial or sent cream colored roses. The Heard family requested donations be made to Vanderbilt Child Services, as they helped the family greatly with William and Madeline. Today, an estimated $15,000 has been donated in William's name. Roughly $4,000 came from Delta Gamma sisters.
Since the loss of her only son, Jamie has been involved with Donate Life Tennessee, which encourages individuals to become organ donors. She is speaking this month at the Vanderbilt Flag Raising Ceremony for National Donate Life Month.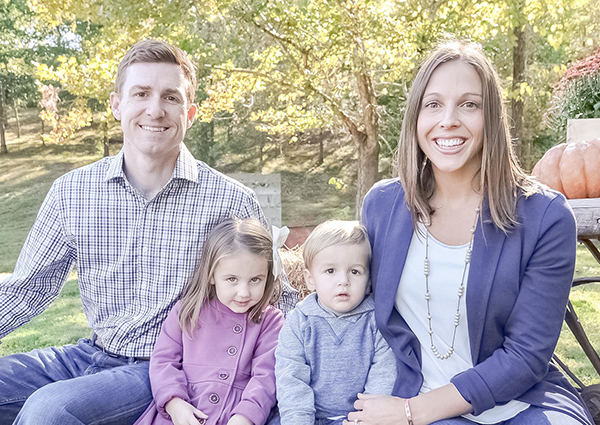 From Left: Daniel Heard, Madeline Heard, William Heard, and Jamie Cooney Heard.
The Heard family has managed to find hope in a time of grief. Their community rallied around them, providing food and support for months after. Jamie's advice to other mothers who have lost a child is "Accept the love others are willing to give and trust in God's faithfulness." She feels that immediately visiting a counselor with Daniel has helped significantly in the healing process. Many marriages end in divorce after the loss of a child. They worked hard to keep their marriage thriving and are now looking forward to welcoming a baby girl. Jamie is due June 2nd.
****
This National Donate Life Month, consider registering to be an organ donor in your state. For information on how to register, click here.