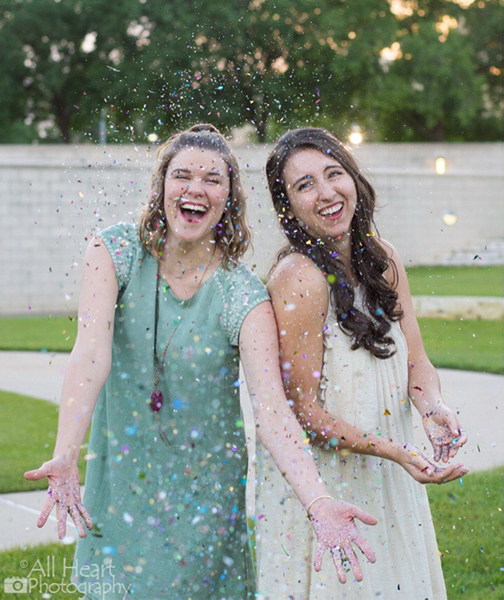 Taylor Hartgraves (left) and Lindsay Long (right), both initiates of Eta Gamma-Texas A&M.
Recent graduates, Taylor Hartgraves, Eta Gamma-Texas A&M and Lindsay Long, Eta Gamma-Texas A&M, were determined to spend as much time together as possible their senior year. One day as the two women were together, Lindsay mentioned they should get off the couch and do something outside. Lindsay wanted to ride a bike, an arduous task for someone with a visual impairment. Lindsay was diagnosed with retinitis pigmentosa at age 7, a disease that causes retinal degeneration. Taylor was not sure how they were going to make this happen, until Lindsay revealed her family owned a tandem bicycle. Lindsay would be able to sit on the back seat, while Taylor steered.
They rode together about six miles during their first ride. It seemed so easy! They thought, "Why not participate in a bike race?" After some research, they came across the Rosedale Ride. It took place in Austin, TX, just far enough away from College Station to make for a nice weekend getaway. The ride also gave back to a local school for children with multiple disabilities. Both women have been actively involved with Best Buddies – an organization that centers on developing meaningful relationships with people living with disabilities – and were excited about the personal connections to the cause.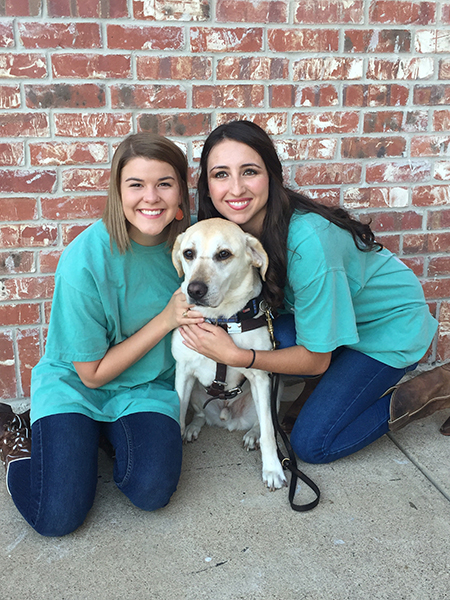 "Delta Gamma has given me the confidence to embrace my visual impairment." – Lindsay Long
Leading up to the race, the woman trained a few times a week. They slowly started increasing their mileage to prepare for the 23-mile race. The training gave Lindsay and Taylor an excuse to get together multiple times a week. Both woman had internships and enjoyed sharing this experience their last semester of college. When Lindsay and Taylor informed Eta Gamma of their training at a chapter retreat, many of the members teared up and were moved by the story. They decided after seeing the reaction of the chapter to make a video to share as an inspiration to others. The video chronicled their training, but also their friendship.
Lindsay had become used to being an inspiration to Eta Gamma. As the only member in her chapter with a visual impairment, the chapter supported her in any way possible. Members knew to always introduce themselves when they walked up to Lindsay, knowing she may not recognize their voice. Their first year, Taylor and Lindsay had a class together. Taylor would help Lindsay find where she and another Delta Gamma were sitting. During her time as a collegian, Lindsay was fortunate to act as an example to the chapter and teach them how to correctly approach people with disabilities.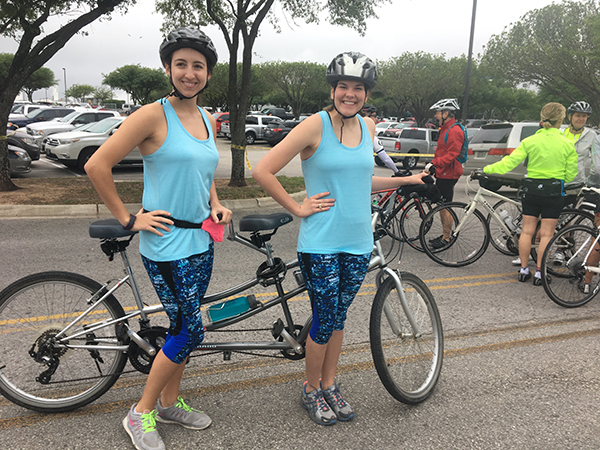 "I'm a lot of work! I can't have a fake friend." – Lindsay Long
On April 1, 2017, Lindsay and Taylor participated in the Rosedale Ride. They were one of six tandem bikes. The route was more laborious than any they had ridden around College Station with many hills and inclines. Even so, they managed to complete the race without stopping or walking the bike. Though riding among many seasoned riders, the woman held their own.
Since then, Taylor and Lindsay have graduated from Texas A&M University and are preparing for the next phases in their lives. Fortunately, they will only be living about 20 minutes from each other. Lindsay will be attending the University of Houston-Clear Lake studying marriage and family therapy. Taylor will be close by in Galveston attending occupational therapy school at the University of Texas Medical Branch. They have already determined a Buc-ee's is the halfway point between them and plan to meet up often.
Click here to watch the video Taylor and Lindsay created.