Bree Taylor, Zeta Eta-Texas State, attended the first Hope Serving in 2015 and again in 2017 on the USABA Goalball trip. Currently, she is involved with the Austin alumnae chapter, serving as president. She also serves as the rituals adviser and director of alumnae relations adviser for Beta Eta-Texas.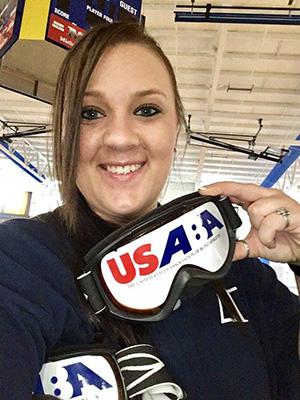 ****
How did your participation in Hope Serving affect your relationship with Delta Gamma and Service for Sight?
My experience in the trips helped to establish a greater connection with Delta Gamma and Service for Sight. Each trip I was able to learn new knowledge and incorporate that knowledge into my alumnae chapter. My first trip was eye opening, as there was so much information about Service for Sight and Delta Gamma and why we have Service for Sight as our philanthropy. My first trip allowed me to gain a deeper respect for our philanthropy. With my second trip, I was able to help guide the women I attended the trip with and help them to have a deeper connection with Delta Gamma and Service for Sight. This guidance helped me to grow within Delta Gamma as well.
What was your favorite memory from Hope Serving?

There are so many memories to choose from. However, I would say I have two memories that are my favorite. 1. Meeting the women from all over the country. Getting to know each and every one is rewarding. 2. During my second trip with USABA I learned about goalball and actually got to play the sport. Being able to play the sport gave me a better understanding of those that are blind and visually impaired and how they play the game. It was emotional to say the least.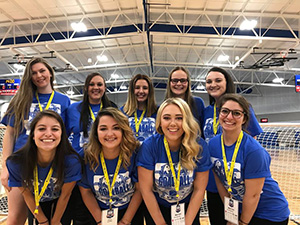 What did you learn on the trip?
There is so much knowledge and information learned on Hope Serving that it is hard to explain. You learn about yourself, you learn about Delta Gamma, you learn about Hope Serving and Service for Sight, you learn about the other women you attend the trip with and so much more. You learn who you are in Delta Gamma. The knowledge you learn is never ending.
Why did you feel inspired to participate in Hope Serving?
I am inspired to participate in Hope Serving for that is what Delta Gamma women do; that is what I do. I enjoy volunteering and giving back to the community. The opportunity to participate in Hope Serving allowed my love of volunteering and my love for Delta Gamma to be combined. I wish I could participate in all the trips!
****
If you are interested in applying for Hope Serving, you can find more information and the application here.