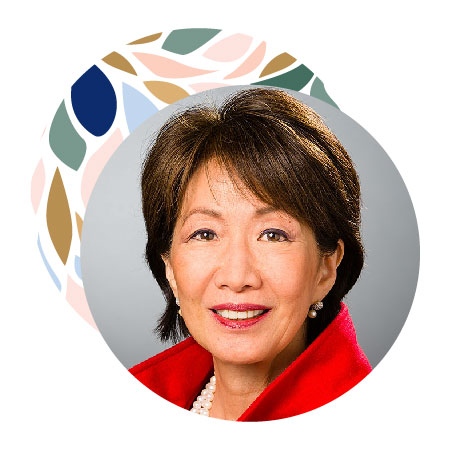 Jan Yanehiro, Gamma Lambda-Cal State, Fresno, is no stranger to breaking barriers. Jan was one of the first female native-born Japanese-American broadcast journalists, she is also an Emmy winner and Eleanor Roosevelt Humanitarian Award recipient, as well as an Academy of Television and Radio Hall of Fame inductee. As the long-time host of the "Evening Magazine" on KPIX TV-CBS5 in San Francisco she shared stories of extraordinary people with her work taking her all over the globe. Jan is currently the Director of the School of Communications and Media Technologies at the Academy of Art University, San Francisco, a role that she has held since 2008. Get to know more about Jan!

Q: Tell us about your journey and how you grew up.
A: I was born and raised in Honolulu, Hawaii. I grew up in a very humble family, my father worked as a taxi driver and my mother worked at a bakery in Honolulu. So, the first time I ever left the islands was to attend Fresno State University in Fresno, California. The first time my parents ever left the islands was to attend my college graduation ceremony at Fresno! I may have had humble beginnings, but I had dreams!
Q: While attending Cal State University, Fresno, what inspired you to join a sorority?
A: In the summer of 1967, I was completing my freshman year at the University of Hawaii, working two jobs and planning my great escape to attend college on the mainland, that fall. My father was most displeased that I was leaving the islands. I think he was simply fearful for me, since we had no friends or relatives in California. As fate would have it, that summer I met two young "co-eds" (yes, that is what college women were called back then!) who were from Fresno, California. One was a member of Kappa Kappa Gamma and the other a member of Kappa Alpha Theta. Both encouraged me to participate in recruitment. I explained to both that I picked Fresno State, as it was in the middle of California and was more cost effective and had a program in journalism. Remember, these were the days before internet searches and social media. So I did rush in September of 1967, and joined Delta Gamma!
Q: What memories stand out most vividly about your DG experience?
A: I remember telling my daughters that we had to wear dresses to dinner at the sorority house—they looked at me in disbelief! Full disclosure, my daughter, Jenna Zimmerman, became a DG at Alpha Nu-USC, and my stepdaughter, Meredith Eves Flynn, became a DG at Eta Alpha-Pepperdine. Truly, I did not pressure them!
And then of course, I tell them about the "Hashers"…and how they served us dinner, and some of my sorority sisters even dated them!
Most of all, I tell them about studying together into the wee hours of the morning and talking about dating and planning first jobs and yes, until the wee hours of the morning. You always had a sister to chat with!
Q: How did Delta Gamma support you in achieving your goals?
A: There is empowerment living with women. Women in college—many with big dreams like mine! Knowing that I was surrounded with some like-minded women empowered me to know my dreams were not silly! I could achieve them.
Growing up in Hawaii, my dreams were to one day interview the rich and the famous. The celebrities of Hollywood, the movers and shakers of the world – well, I wanted to meet them and I wanted tell their stories.
The good news is, I got to do just that.
Q: Having started your professional career as a flight attendant, how did you decide to make the transition to journalism?
A: I have always been curious—about why someone would want to be an actor/actress/singer, and curious about what inspired someone to start a business and lead a business. I was always curious about what "success" would look like, and feel like. And also curious about disappointments in life, mistakes made and lessons learned. I wanted to tell all these stories.
I did fly as a flight attendant with Trans World Airlines (TWA) right after college. I was based in Chicago and traveled the world for two years, and loved the travel! Remember, I was an island girl and needed to see the world beyond my own beautiful island paradise. I loved all the "exotic" cities…from Dayton, Ohio to New York City, from Brisbane, Australia to Paris, France!
But I fell in love with San Francisco. I loved the skyline, the hills, the cable cars and the diverse population. I moved to San Francisco in 1972 and I'm still here!
Q: What excites you most about journalism?
A: We learn best with stories. I feel honored and privileged to tell stories. During my career as a host of a nightly television show on KPIX-CBS 5, called "Evening Magazine," it's estimated that I did more than 1,000 stories. From interviewing Julia Roberts in New York to designer Armani in Milan, Italy, to sumo wrestlers in Japan to eating roasted skank (lizard) in the outback of Australia – I had the best job in the world!
Q: What is the most challenging part of working in journalism?
A: If you want predictable hours and set days of work, the field of broadcast journalism is something you would not want to choose. If you want to always delight in learning new cultures, in getting a bit nervous interviewing Kevin Costner, in tackling difficult issues of our times such as AIDS, immigration and race, then choose journalism.
And of course, along the way, I had three children, now 38, 36 and 33 years old, and I am a grandmother too. Yes, we women can have it all—career and family! You just have to make sure to get a lot of help.
Q: How have the roles of women changed in the field of broadcast journalism since you began your career?
A: Finally, we are seeing women rise up to be news directors, general managers and camera operators! We need more women in the decision-making rooms of broadcast journalism, but we are not quite there.
Q: In what ways do you think you have contributed to evolving the broadcast journalism industry?
A: I started on television in 1976 – there were no women who looked like me back then. I believe in mentoring, in encouraging women and women of color especially, that we MUST be hired, because we will always do the BEST job. Here I am at 73-years-old and I am still mentoring a young investigative reporter here in San Francisco. She is dynamite and she will go all the way to the top!
Q: Can you share any advice for women hoping to make a career in journalism?
A: Always be curious, always prepare and always believe that you belong.
Q: What are some of your hobbies or passions outside of your professional career?
A: Today, I am the Founding Director of the School of Communications and Media Technologies at the Academy of Art University in San Francisco, California. I feel honored to educate the next generation of storytellers.
I still love to travel. I have visited 58 countries and still have many more on my list!