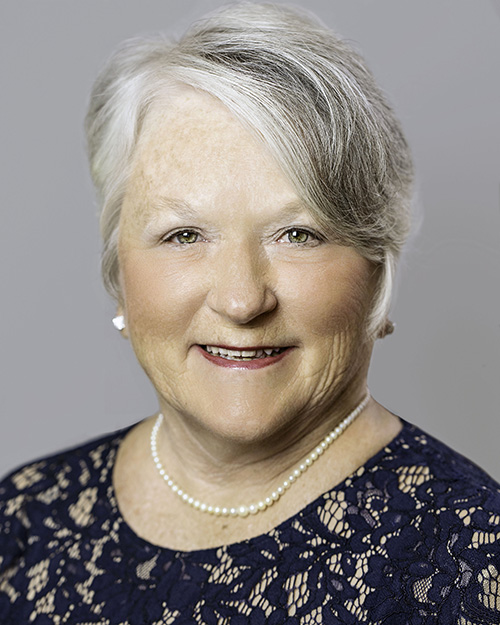 During Convention this summer, we installed a new Council. Shari Souser Malone, Gamma Epsilon-Kent State, is our National Panhellenic Conference Delegate. Shari has served as Delta Gamma's NPC Delegate since 2013. Get to know her below!
****
Can you tell us about your family?
My husband, Jim, is a retiree of Virginia Tech where he was the director of career services for more than 30 years. He is a member of Theta Chi Fraternity. I have two sons, Matthew and Brandon. Matthew is a chef in Hilton Head, SC. Brandon works for NIKE and lives in Portland, OR, with his wife, Joy. Brandon and Joy have also blessed me with twin granddaughters, Lydia Jane and Zadie Blue. Jake, our 80-pound golden retriever, is the best dog in the world!
Why did you join DG?
It was a highly respected and successful organization at Kent State. I knew nothing about Greek life and wanted to get involved in leadership activities. The DGs I met through recruitment were high profile women on campus.
Favorite DG memory?
I have so many, but one of them was standing at the podium at the 2004 Convention in D.C., when Maureen Hollmeyer, Gamma Rho-Wittenberg, handed me the gavel to preside over the Convention body. There are hardly words to describe what that felt like, and what the responsibility and legacy of that moment meant to me.
What is the one thing that DG taught you that was most unexpected?
That even someone like me could become the Fraternity President. It's taught me that I always have so much to learn as a leader, as a sister and as a woman, and that DG will always be there to help me grow, to see something in me that I may not have seen and to push me to "Lean IN."
Favorite Quote?
"Delta Gamma gives us the joy of THINKING, for thought is the source of power.
Delta Gamma gives us, too, the joy of PLAYING, for play is the fountain of wisdom.
Delta Gamma gives us FRIENDSHIP, for that is the road to happiness, and lastly…
Delta Gamma gives us LAUGHTER and LOVE, for both of these are the music of the soul."
****