What was Bid Day like for you when you joined Delta Gamma? We asked a 1960 initiate, a 1970 initiate and a 2015 initiate to all take a quick trip down memory lane!
*****
Anne Allen, Alpha Omega-Arkansas, 1960 initiate
Bid Day: September 1959
My Bid Day into Alpha Omega chapter in September, 1959, was indeed, VERY momentous and meaningful!! It was the ending of one temporary journey and the beginning of my life-long journey with Delta Gamma.
During my freshman year at UAF, I learned more about Greek life from my friends, many of whom were Delta Gammas. The next fall, we went through recruitment (then referred to as rush); and while several sororities expressed interest in my pledging with them, I had "an Anchor in MY Eye!!"
Our waiting on the morning of that Bid Day seemed to last – forever!! Girls going through "rush" were housed in dorms, and we were instructed to wait there until someone came to our door and handed an envelope to us containing the name of the sorority that had extended an invitation. We then were escorted to the sorority house that had invited us!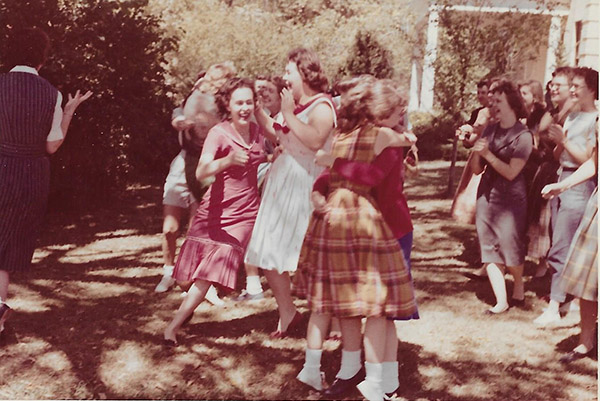 Above is a picture from my UAF Bid Day in September 1959, on the lawn of our Delta Gamma house at 1002 West Maple St. I am in a sleeveless plaid dress (with lots of petticoats!!), tennis shoes and with my hair in a ponytail. The picture features my "Big Sister" Janette Wilson Pledger, executing a "linebacker" play resembling a tackle on quarterback, (me), in a move that would have made Football Coach, Frank Broyles, proud!!!!!

This year I got to attend our re-establishment Bid Day, September 11, 2016, 57 years later, which, for so long we had worked and planned, almost seemed surreal!!! Our UAF and the Greek community had supported us; and now we had this new member class of beautiful, talented young Delta Gamma women - 253 strong!
*****
Carol Luce Aldridge, Beta Eta-Texas, 1970 initiate
Bid Day: September 6, 1970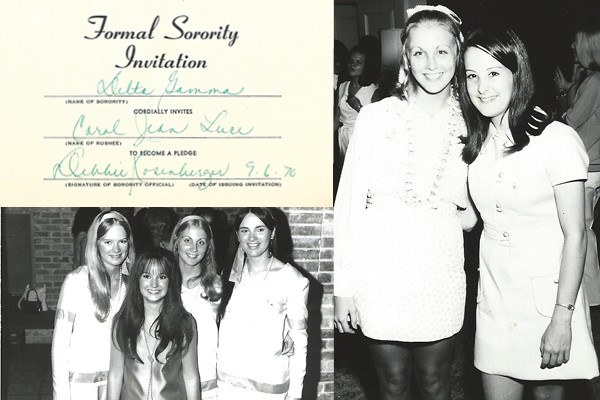 Pictured: Carol's Bid to Delta Gamma (top left). Carol and her Anchor Mate, Marty Wynne (right).
Laura Jobe Kelly, Kathy Porterfield Martin, Carol and Debbie Havens Aiken during what used to be "Skit Round" of recruitment in 1971.
Rush, the name recruitment used to have many decades ago, ended for me on Bid Day, September 6, 1970, when I received my 1st Preference pick-Delta Gamma! In those days, all parties were by invitation only, even Round 1. Fortunately, my DG godmother, Dee Wilhelm, guided me through the whole process. In 1970 no one dressed casually as today, even to class. I agonized over what to wear on Bid Day as mini skirts, hot pants and platform shoes were in vogue.
I remember rushing to the DG House to be greeted by the most amazing, beautiful and classy women. Marty Wynne was my Anchor Mate. Little did I know, Delta Gamma would be woven into the future fabric of my life, especially in the arena of recruitment. Every Bid Day I attend brings back memories of the best decision I made 47 years ago. I always look at the new members and reflect on how Delta Gamma will allow them to become better versions of themselves and to succeed academically, socially and professionally.
Looking in the rearview mirror makes me joyful and hopeful for these young women who are only looking through the front windshield right now. They, too, in time, will know how strong the bonds of sisterhood will be threaded throughout their lives. Hairstyles and clothing will change over time, but the women you share a bond with will be steadfast as you grow old together.
*****
Sydney Durk, Nu-Idaho, 2015 initiate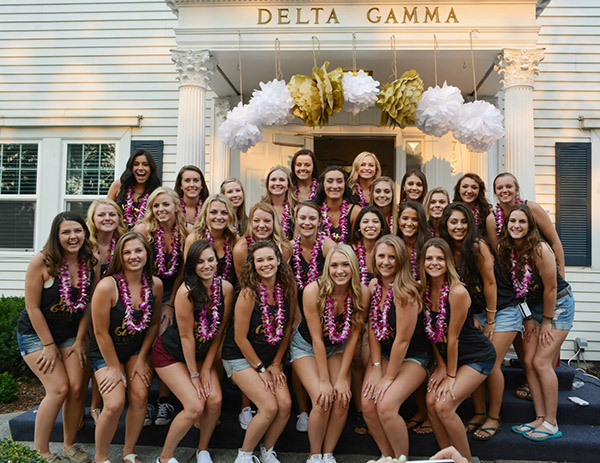 Pictured: Nu-Idaho's 2015 member class, Sydney Durk second to left bottom row.
At the University of Idaho, the recruitment process is very different compared to other schools. Formal recruitment happens before classes in the fall even start, then on Bid Day you move into your new home. So, throughout the whole process, there's more unknowns than just what chapter you're going to be a part of.
In the fall of 2015, I drove 6 hours and moved into a dorm temporarily to get all set up for the 4-day recruitment process. My mother, who was also a Delta Gamma here at Nu chapter, was perfectly encouraging to ensure me that wherever I wound up at the end of recruitment was going to be amazing.
Recruitment was hard for me – balancing who I was in high school with all the things I saw for myself in the future. But I can only imagine how hard it must've been for my mom – leaving her legacy in the big scary world of recruitment unsure of where she would end up.
On the final day of recruitment, I wrote down my top 2 picks for the chapters I would want to be in. With only one in mind, I nervously waited to open my Bid card with the hundreds of other women who were just as nervous as I was. What seemed like a lifetime of waiting to open that Bid card finally boiled down to a few seconds as we all sat in an auditorium with sealed envelope in our hands. On a countdown, each woman opened their bids and saw which chapter they would be welcomed home to.
With sweaty palms, I opened my card and there on a card filled with anchors and the promise of unconditional love, was my name and Delta Gamma. I ran outside of the auditorium with all the other hundreds of girls to find all the chapters spread out across the huge lawn waiting for their new sisters to run to them. With open arms, I was welcomed to Delta Gamma.
I felt so many emotions as we walked down to the chapter house – pride, joy, excitement, nerves. I was so overwhelmed with the amazement that I was finally home that I couldn't help but bust out into tears. I remember crying and repeating "My mom was a Delta Gamma here!" honestly probably about a million times. I'll never forget her excitement when I called her and told her where I was.
The afternoon continued as a blur of pictures and moving into my new room in the beautiful Nu chapter house. The overwhelming experience of recruitment was over and I was thrilled to be home. If only I knew then how much joy Delta Gamma would continue to bring me throughout my collegiate experience and will continue to bring throughout my life.
*****
Remember when YOU received your Bid? Alumnae, you can keep the magic of Delta Gamma alive for sisters for years to come! Your $27 per capita annual dues will help ensure our sisterhood endures: www.bit.ly/DGdues1617