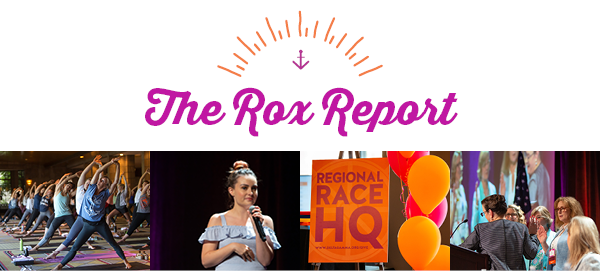 The month of June was a whirlwind of activities for Leadership and Staff as we prepared for the 2018 Convention, Reflecting on Sisterhood, at the beautiful and historic Biltmore in Phoenix, AZ. This phenomenal event started on June 27 through the morning of July 1 and gave the Fraternity and Foundation the opportunity to reflect on our rich history, our vibrant present and our shining future for generations to come. Past, Present or Future…this Convention brought us together as ONE Delta Gamma united in a positive spirit of sisterhood and dedicated to a mission of changing lives.
When I came aboard in 2007 as the Director of Development for the Delta Gamma Foundation, I had no idea the impact a Convention could have on our volunteer leaders, collegians and alumnae in attendance. I immediately became a believer embracing Convention as an incredible energizer for all of us. There is nothing better than sharing the DG spark with a roomful of 850+ collegiate and alumnae sisters…a perfect and contagious way to renew your lifetime commitment to Delta Gamma.

Today as your Foundation Executive Director, I continue to experience the wonder of Delta Gamma and the amazing growth of our beloved Fraternity and Foundation. Congratulations to our leadership and their part in making our 68th Biennial Convention the absolute best it can be. Our leadership has the power of belief in our Fraternity and Foundation, the pride in what we do for our members and the inner commitment to make a difference in the lives of our collegians and alumnae.

For the Foundation, Convention also provides an opportunity to enhance an awareness of our mission and philanthropy, a chance to share our successes and a perfect setting to thank all our members who support us with their time, talent and treasure.

Foundation Friday was a remarkable day for the Foundation team. The Foundation Annual Meeting began with, Board Chairman Wilma Johnson Wilbanks, Alpha Psi-Mississippi thanking our retiring Board of Trustees who have helped our Foundation grow by giving their time, spirit and love endlessly, and welcoming our new Board of Trustees with great warmth and respect. A heartful congratulations to Jane Williams Simmons, Alpha Psi-Mississippi who will serve as our new Foundation Board Chairman.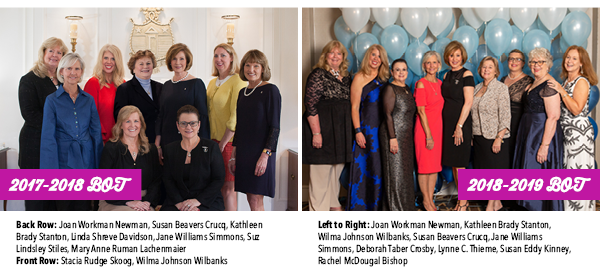 The highlight of the 2018 State of the Foundation was proudly welcoming our fifth Delta Gamma School for the blind, Foundation for Blind Children, started and maintained by the Delta Gamma Phoenix alumnae. The inspiring opening video to the State of the Foundation which outlines the historical growth of the Delta Gamma Foundation can be seen here. I would also love to share with you the full State of the Foundation address.


Following the Annual Meeting, the Foundation proudly showcased our Convention Lectureship speaker, Molly Burke. Molly's story is a heartfelt journey accepting the challenge of being diagnosed with Retinitis Pigmentosa, turning it around and bringing Hope and light into the lives of others.

The Foundation Banquet was a grand finale to a wonderful day. At this very special celebration, Dr. Daniel Arroyo-Rodriguez, an associate professor of Spanish at Colorado College was presented the Faculty Award. There was great excitement when Sarasota alumnae chapter and Gamma Zeta-Louisiana State, won the H.K. Stuart Spirit of Service award. Ending the celebration was the announcement of our two philanthropic leadership award winners. Kay Richardson Royal, Gamma Beta-Tulsa received the Catherine Stuart Schmoker Principled Leadership Award, and Anna Nemeth, Beta Xi-Michigan State, received the Theta Chapter of Delta Gamma Collegiate Leadership Award. Both amazing women have dedicated their life to helping others. To read more about our award winners, click here.

The excitement of the Foundation was magnified by the remarkable fundraising success of the Regional Race. The Convention centered fundraising effort started as the Garden of Giving in 2008 has now grown to incorporate all Delta Gammas and taken on the healthy and fun competition of the Delta Gamma Regional Race. Let me share a little fundraising history.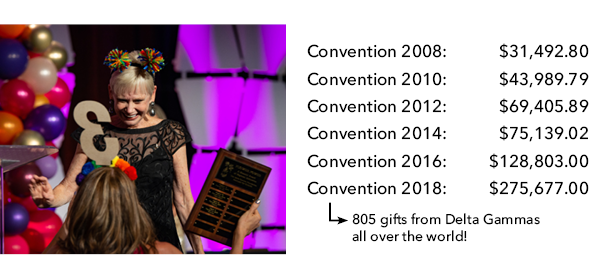 Thank you to staffer, Kelley Widerman, Director of Annual Giving, for believing in this approach and making it happen! Congratulations to Region 3 for winning the Regional Race with the highest dollar amount of donations. Most importantly, thank you to all our amazing Regional Race donors from all eight regions for making a difference in the lives of our members and the visually impaired community. You can view the announcement of the 2018 Regional Race winner here.
I hope this Rox Report captured some of the spirit of this phenomenal event. I wish all of you could have been with us in person as we celebrated Delta Gamma.
Make sure you check out the upcoming ANCHORA for more Convention news and pictures.
Love,

Roxanne Ebner LaMuth, Epsilon-Ohio State

Foundation Executive Director
****