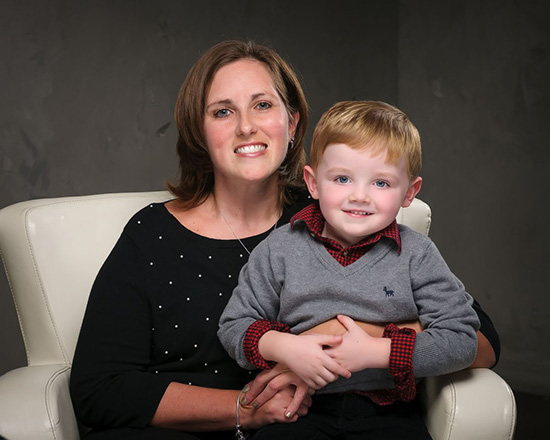 Meet Miss Nikki Brewer, Beta Mu-Bowling Green.
I have known and admired Nikki for many years and first met her when she worked at Executive Offices. Nikki has been a leader throughout her Delta Gamma life and is currently a member of the Phoenix alumnae chapter.
On October 6, 2014 at the age of 37, Nikki suffered a severe stroke affecting her right side which left her without speech and an essential need to learn to walk again. As a new mother to little Conor, clearly Nikki was fighting for her quality of life.
After a tough two and half years of physical therapy, funded in part by her Beta Mu sisters, Nikki has been able to gain back a major part of her independence.
While in therapy, Nikki was introduced to an apparatus called Bioness. When attached below her right knee, an electrical current stimulates her weak leg muscles helping her right leg move forward without dragging her foot.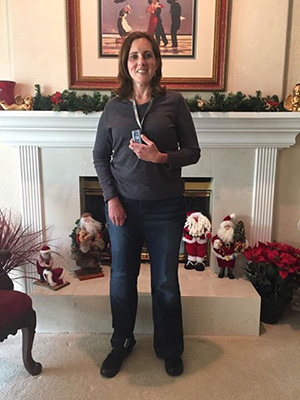 At the suggestion of the Phoenix alumnae, Nikki applied for an Anchor Grant asking the Foundation if they would donate any amount toward this experimental device that was not covered by insurance. When I called Nikki and her mom and told her the Foundation would pay the full price of the Bioness, the phone went silent followed by heartfelt tears.
In February, the Foundation Board of Trustees held their winter meeting in Phoenix and hosted a reception to thank the local alumnae for all they do for the Foundation. There was not a dry eye in the room when Nikki walked through the front door pressing the button around her neck and moving her right foot forward walking toward me to say thank you.
I believe it is time for you to meet Nikki.
Thank YOU, Nikki. Your Delta Gamma sisters embrace you with love and support. Please give little Conor a hug for all of us!

Love ITB,
Rox
Roxanne Ebner LaMuth, Epsilon-Ohio State
Delta Gamma Foundation Executive Director
****