Field Consultants in the 1980s and 1990s
As Delta Gamma's Field Consultant program entered into its fourth decade in the 1980s, the training of new consultants continued to function as a well-oiled machine. Consultants were trained by a mix of both Fraternity volunteers/Council members and Executive Offices (EO) staff.
1984-1985 Consultant Shaun Fisher Young, Mu-Missouri, explained how training would occur at a rapid pace – hers occurred over the span of about two weeks – prior to starting her visits to chapters.
"Visits looked very different from today, mostly because it was such a different era for travel and technology! Without cell phones and computers, we showed up at each place knowing almost nothing (EO staff did all of the pre-visit communication as well as travel reservations back then) with hopes that a chapter representative would be at the airport (first order of business) and that they would provide a 'good' typewriter in order for us to do our reports (a huge plus or minus considering every report was typed, copied and mailed in multiple envelopes weekly)," Shaun shared.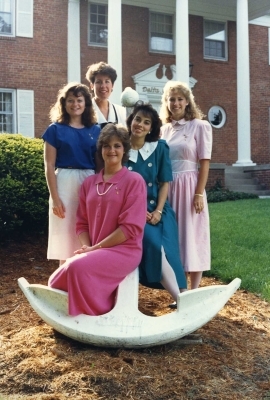 Overall, many of the former Field Consultants who shared their memories with us are quick to say that there was no such thing as a "typical" visit! During this time, there were distinctions made between consultants who traveled and those who supported a specific chapter. While Field Consultants traveled during the school year, making short visits to various chapters, the Graduate Counselor Program was formalized in 1980 to provide individuals who could do the tasks of field consultants in residence, and remain with a single chapter for an entire school year. In future years, this program was absorbed back into the Consultant program.

By the end of the 1980s, the number of Field Consultants hired each year increased from a team of four, which it had been since the 60s, to a team of about seven or eight Field Consultants. Training was still held at EO with these larger teams, however, some consultants would have to stay at a nearby hotel instead of at the Anchor Inn.
The late 80s brought about more change than just the number of consultants. In 1989, the position title was changed to Collegiate Development Consultant, or CDC, which it remains today. At that time, with the increasing workload of the Vice President: Collegians (a member of the Fraternity Council), Council appointed a Director of Collegiate Development Consultants to supervise and coordinate the program. In 1994, the program was moved under the position of the Council Vice President: Development. In 1996 the program went through more change, and an Executive Offices staff position was created to run the program.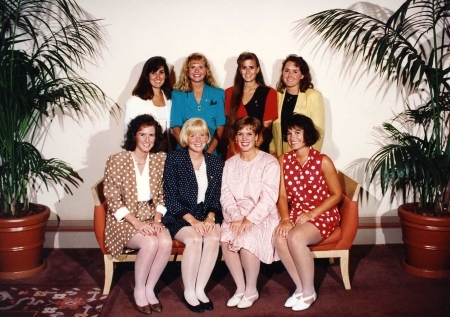 "Since the prior training space was not available due to the construction, the bulk of our training was held in the archives room, which was a pleasant place to learn all we needed to know about Delta Gamma," Katharine (Katie) Burkhardt Budde, Alpha Nu-USC, remembers. "Since we could not stay at EO during the construction, we stayed at a mediocre hotel about 10-15 minutes away, and drove back and forth every day (sometimes twice a day) in the big Delta Gamma van. I did a lot of the driving!"
CDCs were each provided with large, 3-ring binders containing specific information about each area of Delta Gamma operations, details about all collegiate chapters, policies and procedures, and guidelines on how to work with collegians. 1992 was also the year that CDCs incorporated the use of Cabbage Cases into their travels – heavy duty shipping cases. During this year, the Fraternity also introduced Tandy Word Processors into training and laptop computers.
Katie served as a CDC from 1990-1991 and shared how she "traveled in the age just before the explosion of technology," noting that her CDC group was the last one to not have laptops, filling out all of their forms by hand or using a typewriter. Providing consultants with personal computers and laptops made writing, copying, faxing and sending reports back to Executive Offices significantly more efficient.
In 1995, long-time supporter of Delta Gamma and the DG Foundation, Helen Katherine (H.K.) Davis Stuart, Kappa-Nebraska, was inspired by the power of the CDC program and began supporting it in a major way. Thus, in H.K.'s honor, the CDC with the highest interview score is now named the Stuart Consultant.
Something that remained consistent throughout this period of the CDC program was how they structured their chapter visits. Visits would last about a week, and in addition to meeting with all of the chapter officers, the on campus advisor, and attending campus events and Panhellenic meetings, CDCs were also expected to give a presentation to the chapter on a relevant topic.
In the early 2000s, the Fraternity underwent a restructuring project that brought about changes to the CDC program as well. Stay tuned for our next blog post exploring how the CDC program changed in the 2000s and 2010s! If you have questions about the Collegiate Development Consultant program today, email CDCapplications@deltagamma.org.
~~~~
Today, the Delta Gamma Foundation proudly funds training and programming opportunities through generous gifts to the Foundation, in the areas of social responsibility, health and well-being, and leadership. This includes the Collegiate Development Consultant Program, which is funded in part by the Delta Gamma Foundation!