Field Secretaries & Consultants in the 1960s and 1970s
After the Field Secretary program began in the 1940s (read more about the beginning here), it continued to be revised and updated in order to best meet the needs of our collegiate chapters as the decades progressed.
In the mid-1960s, one of the major changes to the program was to ensure that every chapter received a visit from a Field Secretary once per year. Around the same time, the program shifted from being supervised by the executive secretary, a staff role now called the executive director, to being supervised by a member of the Fraternity Council.
"Since [1964] a coordinator of field secretaries has directed training, communicating and scheduling of visits, each chapter having at least one field secretary visit during the course of the year. Her visits are planned so that she may become attuned to the chapters needs and problems, if any. This enables the province collegiate chairman then to make greater contributions to the chapter during her subsequent visits." ~ Fall 1966 ANCHORA
As the end of the 1960s approached, the changes to the Field Secretary program proved to be successful and their roles became clearly defined. Their responsibilities included inspecting and clearing chapter files, organizing conferences with each officer, and reporting on the state of the chapter as well as campus life and conditions. This provided a framework through with the province secretary (now called a regional volunteer) could provide specific solutions for any problems, offer help where needed and help train chapter advisers. These core responsibilities and job functions remain in place today!
The establishment of the Anchor In at Delta Gamma's Central Offices (now called Executive Offices) in 1965 provided a space where the Field Secretaries could train and rest together. Halfway through each school year, it was common to have an "in-gathering," which brought together Field Secretaries, officers and sometimes a couple of collegiate representatives. They would meet to assess the year and share new ideas and programs. This led to a closeness between the field secretaries and lasting, life-long friendships. Winter in-gatherings are also still a part of the program today.
They were familiar with typewriters, long distance phone calling cards, maneuvering airports and transportation within different cities. Typically, Field Secretaries would send a postcard to a chapter two weeks ahead of their visit, to notify the chapter to start making the necessary accommodations. Ahead of their arrival, it was usually the chapter president's responsibility to organize a pickup from the airport. They would stay either in the DG house, a dormitory guest room or a nearby hotel.
"I was hired and sent to cover all the major universities [in] California. At UC Berkeley, during my short visit I became close to the current president. She offered her sister's apartment in [San Francisco] for a place to settle at least temporarily if I decided to move to the area. With a safe place to set up a new life, I moved within the next 6 months to be greeted by 8 DGs who were '65 grads and started a 50-year plus love affair and residence in California. I treasure DG for changing the course of my life!" - Judy Crist Levin, Epsilon-Ohio State
Chapters were required to provide the Field Secretary with a typewriter for her to write reports in triplicate and on carbon paper, to be mailed back to Executive Offices once per week. During their visits, they would meet with all officers of a chapter, their advisers and the Panhellenic representatives on campus. They would attend any events that were occurring at the chapter as well any chapter meetings.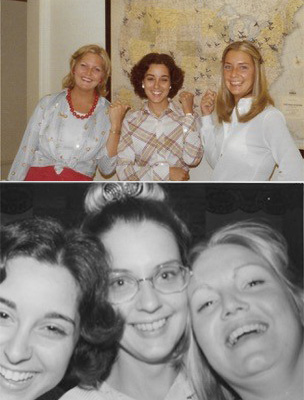 As we entered the 1970s, training continued to take place at the Anchor In with a mid-year in-gathering held during December. This was changed from a January in-gathering meeting, in order to accommodate the early 1970s changes to the traditional school year schedule.
Pictured here are the 1974-1975 Field Secretaries: Chris Hookanson Youngberg, Alpha Lambda-Drake, Missy Skaff Cohlmia, Gamma Upsilon-Wichita State, and Wendy Uecker Born, Alpha Omicron-Miami (Ohio). The first photo shows the three o them in front of a map of all DG collegiate chapters at the time.
"The second would have been when we were hanging out at Anchor In for either training or for In Gathering," Wendy remembers. "It looks like a selfie but I think Chris took this with an Instamatic, the popular camera at that time. How things have changed!"

Each Field Secretary was able to schedule a short break every month for sightseeing and exploring the cities where they were traveling. Carole Bennie Shay, Beta Eta-Texas, describes her most impactful memory as one with Delta Mu-Florida Atlantic chapter: "At the end of my visit, I had a break, and the entire group took me to the Bahamas for the weekend! I even won $100 at the casino! Delta Mu closed soon after my visit, but I'm sure those women are amazing alumnae now. I'm sure they have no idea of the impact they had on my understanding of sisterhood."
During the mid-70s, the name of the position was changed to "Field Consultant," which is what they would continue to be called for the next several decades. They often kept personal journals, where they would record their individual experiences. Their reports showed that life on the road was quite lonely sometimes, as there was little communication between them while on assignments. Typically, they would be traveling in different parts of the country (usually there were only 3-4 consultants hired per year), so there was little opportunity for them to meet up in between chapter visits.
In some years, the Consultants would write to each other (CC'ing all of their fellow consultants by using carbon paper copies) in addition to sending shared novels to one another - the original 'virtual' book club. "There were no electronic communication tools, no social media, online games or any other type of digital entertainment like we have now," Carole recalls. "Calling long-distance by phone could get expensive, so I only called home once a month."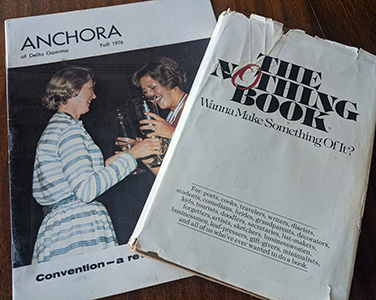 During her time as a Field Consultant, Karen Nelson Gullet, Delta Beta-Kentucky, kept a book of memories detailing her time in the role.
"It was called The Nothing Book which our 'coach,' Mrs. Mastio, gifted us for Christmas after our first semester in the field," she shared with us. "It includes my memories of Convention in the summer of 1976 in Kansas City, our conditioning and training at the Anchor In and [the] visits to the collegiate chapters."

Interested in learning more about how the Field Consultant program evolved? Stay tuned for our next blog post exploring the changes the Field Secretary Program went through during the 1980s & 1990s. If you have questions about the Collegiate Development Consultant program today, email CDCapplications@deltagamma.org.
~~~~
Today, the Delta Gamma Foundation proudly funds
training and programming
opportunities through generous gifts to the Foundation, in the areas of social responsibility, health and well-being, and leadership. This includes the Collegiate Development Consultant Program, which is funded in part by the Delta Gamma Foundation!