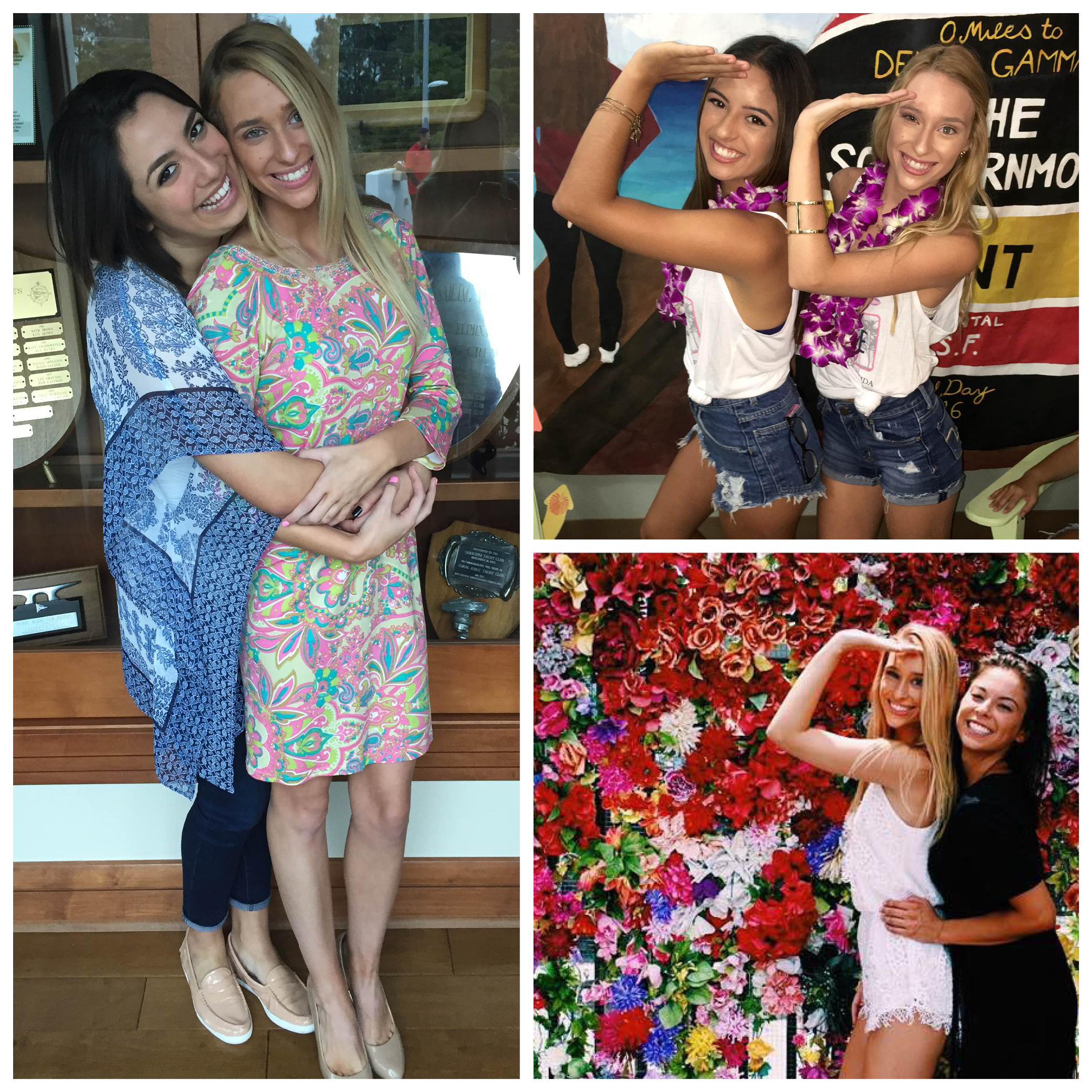 Emily Pickett is a collegian from Delta Kappa-South Florida. As a child, she was diagnosed with retinoblastoma, a rare eye disease. We caught up with Emily to talk about her experience with retinoblastoma and Delta Gamma.
Please tell us a little about retinoblastoma and your experience with it.
Retinoblastoma is a rare cancerous tumor that affects the retina of the eye. Usually, when you turn two-years-old, your primary doctor will take an eye exam. However, when I went for my kindergarten check-up at age five, records showed that I never received an eye exam (which led to a lawsuit that I ultimately won). When I did receive the eye exam, I was not responding to the left side of the screen, because I was blind and could not see out of my left eye. My primary doctor referred me to an ophthalmologist to take a deeper look and he found that I had a severe case of retinoblastoma. My doctor gave my parents two options: going through chemotherapy or getting my eye removed. Removing the eye was safer and would get rid of the cancer more effectively. So, I went into immediate enucleation (which is the surgical process of removing the left eye) and I now have a prosthetic eye. I am totally blind in my left eye and have no depth perception. Halfway through my surgery, the cancer spread to the optic nerve which leads to the brain. My parents were worried I would have to receive chemotherapy in addition to enucleation, but luckily the doctor caught it just in time and I have been in remission ever since. Every six months for the rest of my life, I will travel to Miami for my oncology check-up which includes pictures, ultrasounds, eye exams, etc., just to make sure the cancer does not come back. Every 8-12 months, I get fitted for a new prosthetic eye. And once a year, I get an MRI.
How has being a Delta Gamma affected your experience with retinoblastoma?
Being a Delta Gamma has helped me to embrace my disability and having a prosthetic eye even more. I stress the importance of yearly eye exams and now my sisters can finally see how crucial it is to have one.
Did Delta Gamma's philanthropy, Service for Sight, influence your decision to become a member? And have you participated in any meaningful experiences with Service for Sight?
I went through informal recruitment at the University of South Florida in Spring 2015. I had heard that Delta Gamma's foundation was Service for Sight but I was more focused on finding an organization where the sisterhood was real and genuine. It was a bonus that DG raises awareness for Service for Sight and I think as a member that has a visual impairment, it helps my chapter to be motivated to give back and spread that awareness as well.
Please tell us about your advocacy work.
When I was a freshman in high school, I knew I had a purpose in life. I had played volleyball for many years and October was breast cancer awareness month which was during the peak season of volleyball. I started a fundraiser called "Dig Pink" which was a month-long campaign event that included t-shirt sales, car washes and spreading breast cancer awareness through "Wear Pink Wednesdays." The biggest aspect of the event was our volleyball game "Dig Pink." I had a goal that by my senior year of high school, I would raise $5,000 to donate to the American Cancer Society. When I turned 18, I had raised over $18,000...which was amazing.
Below is a news article that I was interviewed for that has some more information.
http://articles.sun-sentinel.com/2010-10-18/sports/fl-br-volley-glades-1018-20101017_1_volleyball-court-cancer-survivor-cancer-research
What is "Know the Glow?"
"Know the Glow" is an awareness campaign that uses flash photography to identify signs of different eye diseases, one of them being retinoblastoma. My mom is a huge advocate for "Know the Glow" and spreads awareness through her Facebook page constantly. She is a resource for other moms that go through their child having cancer as well as in our retinoblastoma community.
What will be the focus of your 2017 TED talk?
My talk is titled: "Having Cancer Does Not Define Me, Persevering Does." I will discuss how no matter what you go through, there is nothing you can do to change the past. You must come out strong and on top, rather than dwell on the negative. I believe that everything happens for a reason and everyone has a purpose in life, so you must believe that you can, and will, find that purpose.
Do you have any words of advice for sisters who may be going through similar situations?
My biggest piece of advice is that everything happens for a reason, whatever you go through now, will be easier to get through when you grow older!