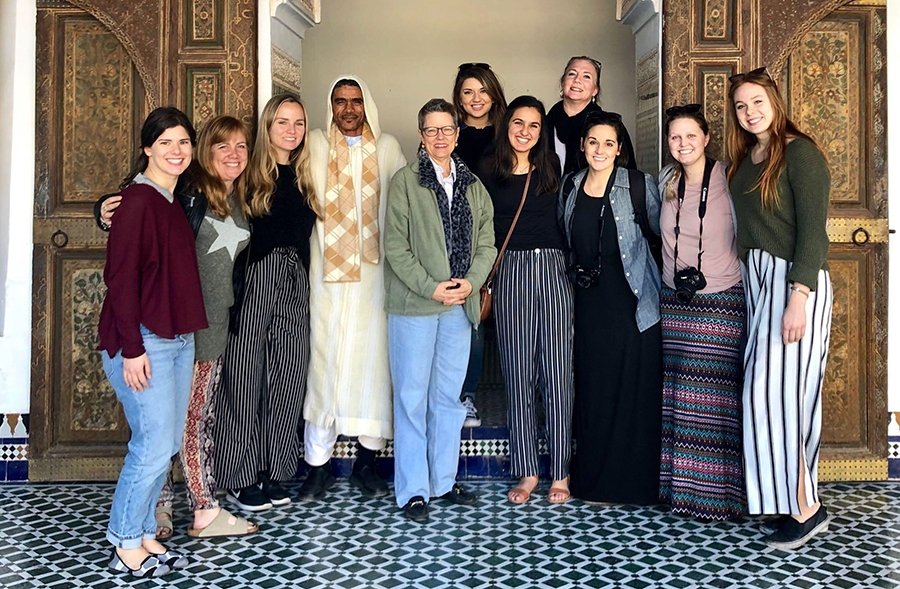 "Doing Good" in Morocco: Hope Serving January 2019
As Delta Gammas, we seek out and create opportunities to "Do Good" in our local communities and beyond. With more than 250,000 initiates from chapters spanning North America, we've certainly covered a lot of ground.
Picture a map of the world, with little red push pins marking the places Delta Gammas have made an impact. To start, there are 151 little push pins marking each community that is impacted by our collegiate chapters, and another 208 pins to represent the locales of each of our alumnae groups. Stick a pin in Denver, Los Angeles, St. Louis, Kansas City and Phoenix for each of our Delta Gamma Schools for children with visual impairments, and all the cities with veterans centers touched by our Joining Forces initiative. Many of these pins have been in this map since before you were even born, placed by all the sisters that came before you and made a positive impact in the name of Delta Gamma. There are pins in Belgium, where Delta Gamma opened a children's hospital and orphanage during World War I. There are pins in the cities where Delta Gammas serve as marathon guide runners and pins dotting the map at dozens of guide dog organizations, Golden Anchor facilities and local sight-related organizations.
Our map is densely covered in those little red push pins, but this year we pressed a new pin into Marrakech, Morocco, as members embarked on our first Hope Serving trip outside North America.
Four collegians and five alumnae were selected from more than 300 applicants, a record for the Hope Serving program:
Team Leader Amanda Boyd, Gamma-UC Berkeley, collegian
Team Leader Ashley Baudouin, Gamma Zeta-Louisiana State, alumna
Aashka Shah, Theta Beta-Case, collegian
Catherine Hunt, Alpha Sigma-UCLA, alumna
Christine Burk Roberts, Delta Rho-Virginia Tech, alumna
Lauren Delzell, Tau-Iowa, alumna
Lauren Sanchez, Beta Chi-Denver, collegian
Nicole D'Antonio, Delta Iota-Georgia, alumna
Taryn Walker, Alpha Phi-British Columbia, collegian
These participants had a hands-on opportunity to "Do Good" at the Abu Abbas Sabti Center for the visually impaired, helping to make the school grounds safe for the children that the school serves.
"The administrators from the center where we are serving expressed enormous gratitude for our work, but also opened their doors and hearts to all of us," reflected Lauren Sanchez, Beta Chi-Denver.
In addition to painting, installing padding and other improvements to the physical structure, intercultural conversations were an important part of the trip. A Q&A with the school staff, faculty and administrators shed light on the experiences of people with visual impairments in Marrakech and taught trip attendees more about the students attending the Abu Abbas Sabti Center.
"Teachers and administrators describe the center and its people by using the word family - how lucky are we to have been a part of this family during our time here?" -Lauren Delzell, Tau-Iowa
Later in the trip, the group got to hear from four Moroccan women who shared stories of their experiences as women living in a Muslim country.

"I love the emphasis on being open-minded, receptive and learning through genuine connections. For this reason, I know the lessons I have learned will be a part of me for the rest of my life." -Taryn Walker, Alpha Phi-British Columbia
As the names implies, Hope Serving is about service, but it is also much more than that. It provides an opportunity to connect with other Delta Gammas, grow as a leader and citizen of the world, and broaden one's educational and cultural interests.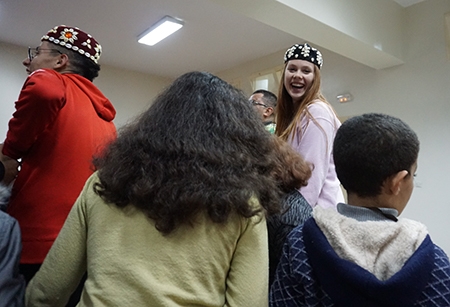 "My take away and action plan from this is to focus on my role as a global citizen," said Lauren Delzell. "It is our obligation to see the world, respect cultural differences, understand our privilege and give back where possible. I will use my real-life expertise and knowledge to break down barriers and stereotypes at home about people in Morocco, people who are Muslim, and people who are blind and visually impaired."
The January 2019 trip was the first Hope Serving experience fully-funded by the Fraternity. With financial barriers removed from these experiences, we look forward to engaging more sisters, especially alumnae, through Hope Serving.
This summer, there are three Hope Serving trips taking place across North America, open to both collegians and alumnae:
OWL CAMP
Hope Serving will be visiting OWL Camp for the fourth year in a row. Oklahomans Without Limits (OWL) is NewView Oklahoma's free summer camp for youth ages 8-18, who are blind or visually impaired.

USABA Goalball National Tournament
Through a partnership with the U.S. Association of Blind Athletes (USABA), participants will be volunteering at the Goalball National Tournament in Fort Wayne, Indiana for the third year in a row. This year the organization will be hosting the 2019 International Blind Sports Federation Goalball and Judo Paralympic Qualifying Competition. Over 450 athletes and coaches from nearly 40 nations are expected to participate in the competition.

CNIB (Canadian National Institute for the Blind) Day Camp
CNIB will welcome hands-on help from Hope Serving volunteers to support the day camps offered to children and youth who are blind or partially sighted living within the greater Toronto area.
Applications for these incredible service opportunities are open now until March 10, 2019. The registration bulletin is available here for you to learn more and apply.