Defending the Sisterhood
By Jayme Detweiler Crowell, Alpha Pi-Arizona
Cynthia "Cynt" Marshall, Gamma-UC Berkeley, put her career on the line when she accepted the role of chief executive officer (CEO) of the Dallas Mavericks. She was hired by Mark Cuban to transform the "locker room" culture. She set out with a vision to establish the Dallas Mavericks as the global standard for diversity and inclusion, with a needed focus on women and people of color.
A "Sports Illustrated" article revealed the gross mistreatment of women who were working for the Dallas Mavericks NBA team in 2018. Misogyny and sexual harassment were just some of the misconduct that was brought to light. Owner Mark Cuban was disgusted and knew he had to make a change in management. The entire office culture required a transformation.
The person he needed to overhaul the organization?
Cynthia "Cynt" Marshall, Gamma-UC Berkeley.
"He said he was in a crisis, and it was a sincere, genuine cry for help,"
Cynt said.
His phone call caught Cynt off guard. She was newly retired after 36 years at AT&T, having worked as the senior vice president of human resources and chief diversity officer. Her new consulting firm was underway and although she was a huge basketball fan, running an NBA team hadn't been a goal of hers.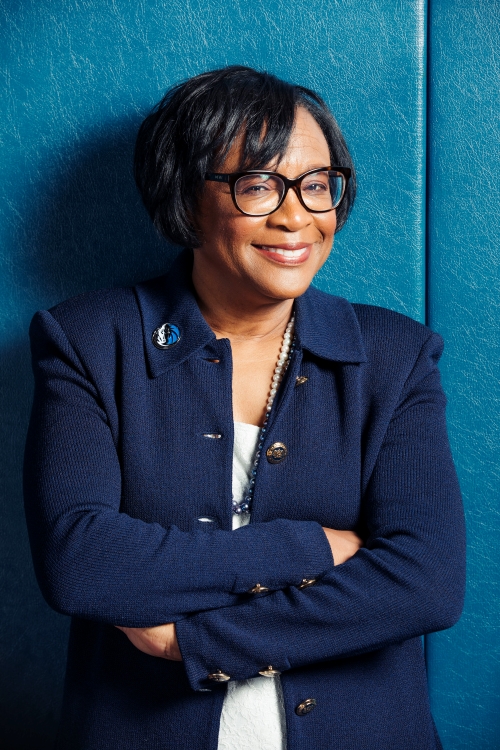 Putting her reputation and impressive resume on the line, she visited the Mavericks office to meet Mark and discuss the issues at hand. During that visit, several female employees came up to her and shared their terrible personal workplace stories. The women weren't valued, and they were being mistreated by a male leadership team.

"I knew I had to do it for the sisterhood."
"I own it, you run it," was the business plan Mark set for Cynt from the get-go. To this day, she keeps him involved and informed even amid a pandemic and the increased focus on diversity and inclusion efforts, he has remained committed to his trust in her. And Cynt's success running the organization is evident.
In the short two years she's been with the Mavericks, she's had a huge impact. What started as an intense 100-day plan full of ethics and zero tolerance policies has bloomed into a much healthier and safer work environment.

She increased the number of women in management to almost 50 percent and has increased the number of people of color in management to 33 percent — believing the more diversity sitting around the conference table, the better the decisions.

"Diversity is being invited to the party – inclusion is being asked to dance."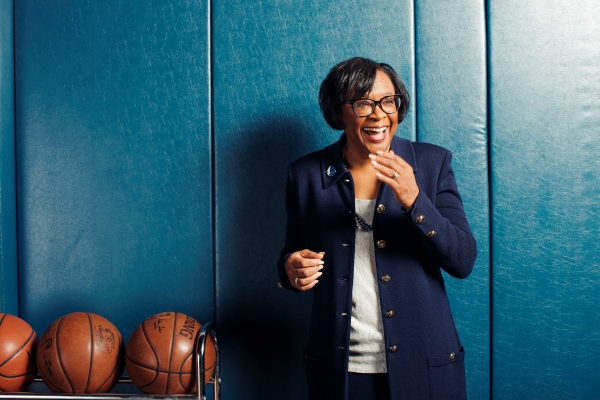 Managing this large organization though the COVID-19 pandemic has been a challenge to even a well-established business veteran. When the first wave of the pandemic struck the U.S., Cynt immediately focused on keeping her employees physically, mentally and emotionally safe. The organization continues to work from home, relying on Microsoft Teams to connect. So far, she's impressed with employees' productivity.
In these uncertain times, Cynt has honed in on several specific leadership skills. She developed a new personal platform that she calls her new "Dot Com." It's focused on compassion, communication, community, compromise and compliance.
She is especially thankful for Mark Cuban's presence this year. "He is the much-needed, bold, courageous voice during this time …" She's learned a lot about the business of basketball and appreciates his interest in being community-minded and generous.

"I can't believe I had to wait all this time to have a boss like him. He's perfect for my work style," Cynt said.

Before becoming one of the world's most successful business executives, Cynt was busy dreaming of her future. She grew up in low-income housing in Richmond, California. Her father was abusive, and her parents divorced when she was a teenager
She had a strong work ethic and had her eye set on attending college at an early age.
"I am rooted in my faith in God. I continue to have an optimism that keeps me believing the glass is always half full," Cynt explained.
Her mother held multiple jobs to take care of the family and she is one of Cynt's strongest role models. "She put two books in my hand at an early age, a math book and a Bible," Cynt said.
Cynt credits the poem her mother used to read to, "Be the Best," by Douglas Malloch, for her multiple full scholarship opportunities to universities. The poem inspired her to "be the best of whatever you are."
With a full scholarship to the University of California, Berkeley, Cynt began to break barriers, but in each trailblazing moment, she usually didn't realize she was the one breaking the barrier.
Cynt was the first Black woman to be a cheerleader at Berkeley. Trying out for the team was second nature to her. She didn't make the squad her freshman year but returned to tryouts her sophomore year full of nervous energy and made the team.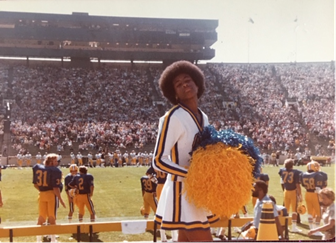 "I still don't believe that I was the first. It's actually hard to believe. If it's true, and at this point I guess it is, I am proud to have blazed a trail and happy to have witnessed a diverse spirit squad at Cal in my alumni years," Cynt said.
She said as an African American, she was also an anomaly going through recruitment. "All of my fellow cheerleaders were in a sorority and they encouraged me to go through rush. I really had no reference point for what it was about, but it sounded like fun," Cynt said.
DG felt like home to her because of the importance of philanthropy. "The 'doing good' motto was me all day!" Cynt held the position of vp: philanthropy her first year in the chapter.
"Every time I visited the DG house on Channing Way, it just felt right. I still get goosebumps just thinking about my DG experience," Cynt said.

"I had fun living in a sorority house with over 100 sisters, while being the only African American," Cynt said.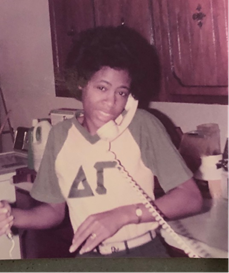 She explained it was a cultural experience for all. "I taught them about afros — how to comb, shape and make them gorgeous. I also regularly took some of my sisters to the public housing projects where I grew up and where my mom and some of my siblings still lived at the time. It was home and they felt at home when they visited with me."
She's thankful for her relationship with her DG roomie making her feel at home. "We really bonded. She would tell people to leave me alone when they would go overboard with the curiosity about aspects of my culture," Cynt said.
From college through her professional life, Cynt has continued to break barriers. Two years ago, the TODAY Show featured her during Black History Month. The reporter congratulated her on being the first African American female CEO of an NBA team. Her response: "It's 2018, I shouldn't be the first of anything."
While her professional life contained success and recognition, her personal life includes moments of grief and heartache. Cynt battled stage three colon cancer at the age of 51. After six months of brutal chemotherapy, she is thankful to be in remission, crediting medical professionals and her family's support for the miracle. She hopes to publish a book by the end of the year about her experience focusing on how she put the "can in cancer."
Cynt and her husband of nearly 40 years have experienced four second trimester miscarriages and the death of their 6-month-old daughter. After those more-than-challenging first 10 years of marriage, Cynt said that the Lord had other plans for her to create a family: adoption.
Today, the couple and their four children love cheering on the Mavericks together. Inspired by her children, she has dedicated her life to providing permanency and stability to children and is an advocate for adoption and CASA (Court Appointed Special Advocates).
It was while having young children at home that she worked her way up the corporate ladder at AT&T and became president of AT&T in North Carolina. From there she became one of the company's top executives and worked as senior vice president human resources and chief diversity officer. An unforgettable moment in her career occurred when she was asked to ring the New York Stock Exchange bell on Wall Street representing AT&T. With tear-filled eyes she rang the bell, a day she had dreamed about since she was a teenager.
"At one point growing up, my father regretfully said that my sister and I were going to be hookers on the street. I responded to my mother saying that I was going to make money on the street — Wall Street," Cynt said.
Remembering that moment, Cynt started crying when she called her mother as she was standing on Wall Street about to ring the bell.

The ringing that followed was the sound of hard-earned success.

This story and more can be found in the Fall 2020 ANCHORA.