Ronni Smith Oppenheim - Cable Award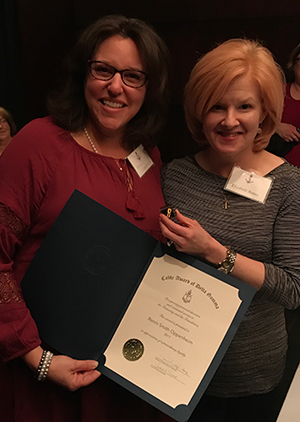 Ronni Smith Oppenheim, Beta Rho-George Washington, has truly lived our "Do Good" motto through her continued commitment to all things DG in NoVA! Over the years, she's served as alumnae chapter president, DGs on the Go Special Interest Group Leader, Chili Cook off Chairman and everything in between. Ronni is the alumnae equivalent of the energizer bunny – and we are so fortunate to call her sister! At Northern Virginia alumnae chapter's Founders Day 2017, Ronni, pictured above in red, was happily shocked when she was recognized for her incredible loyalty and devotion to Delta Gamma.

The Cable Award recognizes alumnae who, through years of serving Delta Gamma, have evidenced unusual loyalty and devotion far beyond normal alumnae participation. You can find Cable Award instructions here.
****