From the Archives: National Panhellenic Council Badge
The history of women's fraternities/sororities in the United States of America goes back to 1851 when Alpha Delta Pi was founded at Wesleyan College (at the time called Wesleyan Female College). These spaces would have been a haven for women to support each other during a time when very few of them were able to access higher education or pursue a career. This is clearly seen in the founding of Delta Gamma which was envisioned by our Founders as a society of mutual helpfulness. The number of these organizations grew significantly over the next few decades.
By the 1890s there was an effort to form an inter-sorority consortium. A meeting among several organizations took place in Boston in 1891 to discuss this possibility. But it was not until 1902 when Alpha Phi invited eight other institutions (including Delta Gamma) to a meeting in Chicago that such an organization was officially formed. The purpose was to, "assist collegiate and alumnae chapters of the NPC member organizations in cooperating with colleges and universities and to foster interfraternal relationships." Today, the National Panhellenic Conference consists of 26 sororities.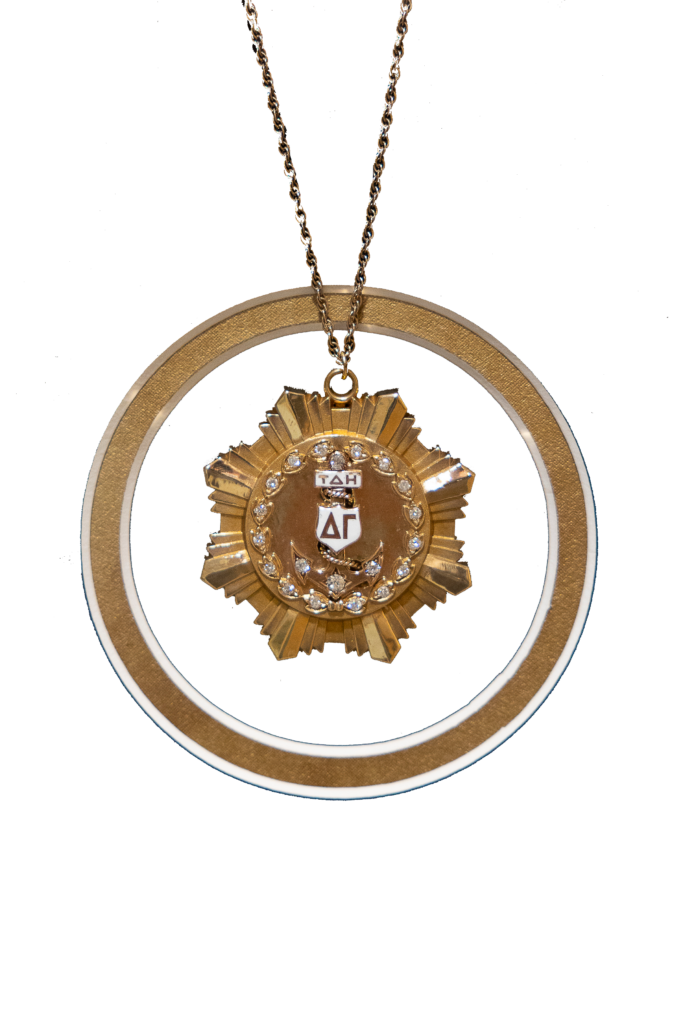 Just two years after its formation Grace Telling, Sigma-Northwestern served as the second Chairman of NPC. Three more Delta Gamma's who hold this role over the years, Marguerite Lake, Psi-Goucher in 1911, Helen Byers, Mu-Missouri in 1953, and Martha Brown Gamma Nu-North Texas in 2003. This medallion was created using a badge from 1893 that belonged to Mary Halstead, Sigma-Northwestern for Marth Brown during her chairmanship. Halstead severed as an NPC delegate from 1928 – 1932.
This object serves as a reminder of how Delta Gammas have sought to be leaders not just within our own organization but also in the wider community.