For Immediate Release:
Contact: Jennifer Magro Algarotti, Ph.D., Director of Strategic Communications, Delta Gamma Foundation, jennifer.magro.algarotti@deltagamma.org

Delta Gamma Foundation launches public phase of $50M comprehensive campaign
Columbus, Ohio [July 25, 2022] — Delta Gamma Foundation announces the launch of the public phase of its first-ever comprehensive fundraising campaign. The public phase of Anchoring the Future: The Campaign for Delta Gamma coincides with Delta Gamma's Sesquicentennial Biennium, starting in July 2022 and concluding in June 2024 and in partnership with the Delta Gamma Fraternity, to celebrate 150 years of the Do Good Sisterhood.
During Delta Gamma's 70th Biennial Convention from June 23-26 in Philadelphia, PA, Anchoring the Future was launched with much excitement to both in-person and virtual attendees. During Convention's opening banquet, it was revealed that the Foundation had been raising funds for the Campaign quietly since 2018 and that over $39 million had already been committed by individual donors, alumnae groups and collegiate chapters.
Campaign Co-Chairs, Delta Gamma members Shaun Young and Laurie Kight, were also introduced, along with the Campaign goal of $50 million. Laurie shares: "For 150 years Delta Gamma has enriched the lives of its members and so many others through our motto to do good. Shaun and I are honored to help lead Anchoring the Future, as we work to ensure that Delta Gamma's ideals of friendship, scholarship, service and assistance will grow and thrive for the next generation."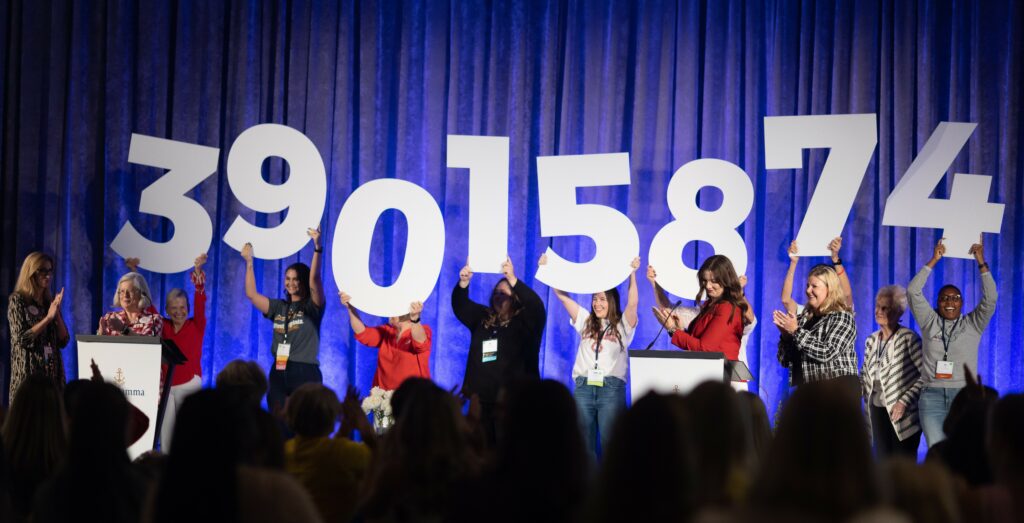 Anchoring the Future is built around four Campaign Pillars that will help ensure the success of Delta Gamma for generations to come: Training and Programming, to grow educational and leadership opportunities for members; Individual Member Support, to increase support for members based on financial need or academic achievement;
Heartfelt Giving and Philanthropy, to expand our philanthropic commitments, including Delta Gamma's philanthropy Service for Sight; and Capital Initiatives, to enhance our physical facilities to keep all members connected for good.
The $39 million raised thus far includes the Foundation's largest single gift ever received, an outright gift of $5.5 million in unrestricted funds from a donor who wishes to remain anonymous. Leslie Martin, Foundation Executive Director, reflects on the impact of this gift: "A gift of this magnitude is transformational for Delta Gamma, making a reality of what was once just a dream. This incredible donation will be used to create sustained funding for programs that invest in our members as well as those we advocate for through Service for Sight. For these funds to have been given as an unrestricted gift is a deep compliment and a sincere sign of trust that the Delta Gamma Foundation will be an outstanding steward of this investment. The donor shared that Delta Gamma has deeply impacted their life and this was an opportunity to give back just a part of what Delta Gamma has given to them."
View the press release here.
About Delta Gamma Foundation: Incorporated in 1951, the Delta Gamma Foundation is a 501(c)3 nonprofit organization formed as a complement to the Delta Gamma Fraternity, creating a vehicle for members to promote the educational interests and social responsibility referenced in Article II of the Fraternity Constitution. The Delta Gamma Foundation fosters lifetime enrichment for members, promotes Service for Sight and partners with the Fraternity to ensure the future of our sisterhood.