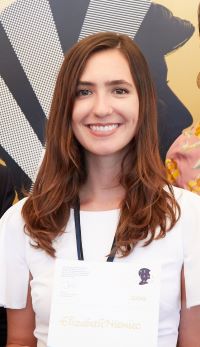 Alumna Spotlight: Liz Niemiec, Alpha Tau-Butler


Liz Niemiec, Alpha Tau-Butler, started her charitable organization called Little Wish Foundation at just 16 years old. This year, she was awarded the Diana Award, which is known as the highest accolade a young person can receive for their outstanding service to others. Named after Princess Diana, the award is presented in London to young people around the world every year.

We asked Liz to share with us how Little Wish Foundation came to be and how she continues to "Do Good" through this special cause.
The idea for Little Wish Foundation all began with a child named Max, who was battling cancer. Max was the son of my teacher; and at a small, private school in Indiana, everyone was like family. I was in 8th grade when Max was diagnosed with Wilm's Tumor (a form of kidney cancer) and I remember feeling overwhelmed, sad and confused when learning that 4-year-old Max could get cancer. I honestly thought that only adults got cancer, and I was shocked. We followed Max's brave battle for two and a half years. So much of what he went through during this time should never have to be experienced.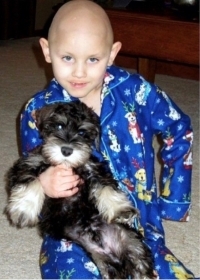 I remember visiting Max at his home with my mom in the final months of his battle. He had just received a gift he had always dreamed of: a puppy. It was beautiful to witness Max's happiness with finally having his puppy, Chewy. That seemingly "little" gift really made his days brighter.
I was once again reminded of the magnitude of this little gift at Max's wake. It was a day that forever changed my life: being at the wake of a child younger than myself, and due to cancer. To this day, it's hard for me to describe what emotions ran through me approaching Max's casket to pay my respects and say goodbye. A photo was hung above the casket of him and his puppy and it spoke to me. It even felt like Max spoke to me. I felt moved, driven and chosen to do something.
Leaving the wake, I turned to my mom and said "I want to start something big to help other kids fighting cancer. It's not fair that Max is gone. Will you help me?" She said yes. From this, Little Wish Foundation was created to give other little wish gifts to children fighting cancer, like Max, and we've never looked back. It's all because of Max.
In the first few years, it was a truly homegrown effort. I held meetings in my church's chapel and sold blue silicon bracelets reading "Little Wish - in Memory of MAX" to all of my friends and peers. I asked a lot of questions to the adults I recruited for help and started planning our first fundraisers. (I often had my friends join me in my garage after school to make posters for the walls of the fire station venue.)

The best part for me, always, was getting to deliver each "Little Wish" we raised money for and meeting the kids we were helping. It was an effort that ruled my days and nights when I wasn't at school, fueled by pure excitement and the drive to just keep helping. My goal has always been to bring as many smiles that I can to kids fighting cancer. The hurdles I faced were mostly related to the fact that my mom and I were completely new to the non-profit world. With zero experience, we created Little Wish Foundation from scratch.


I was so young when I thought of creating Little Wish Foundation, but in a way, I think my naïve boldness was my advantage in just listening to my heart and doing it, with no second guessing.
In college, it was the amazing forever friends I made in Delta Gamma who inspired me to keep going with Little Wish even when it was difficult, or life threw hurdles in my way. I learned so much from the great women in my chapter, all unique and equally wanting to help me in my pursuit of Little Wish throughout college. They even donated funds from an ice cream social to Little Wish and surprised me one night with a huge donation. It was a sense of incredible camaraderie, love and support I'd never experienced. Though I graduated almost three years ago, I still have such a big support system from those women. I'm very appreciative for my experience.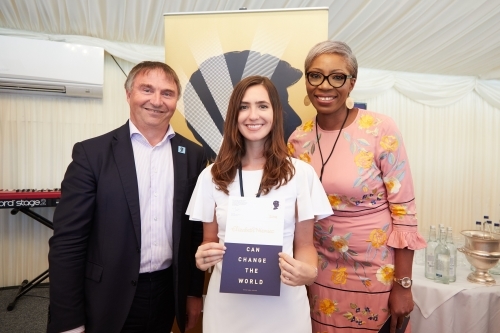 I'm honored that I was even nominated for the Diana Award, let alone to have represented America in attending the award ceremony in London this summer. I've always admired Princess Diana and her legacy, as she was known for her incredible heart and service to others in need. And for her style! She was a gift to everyone's life she entered. What an incredible legacy to leave behind! The Diana Award, in her honor and memory, is known as the highest accolade a young person can receive for his or her outstanding service to others. I'm very grateful for the experience of receiving the award in London and will never forget the many amazing young people I met who are all doing truly awesome things to make the world a better place. I left the ceremony feeling nothing short of inspired.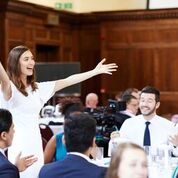 I dream to see Little Wish Foundation continue to grow and impact every child battling cancer in our country. We've granted more than 2,000 little wishes so far, in 14 children's hospitals in seven states. I know anything is possible and I'm filled with hope in fulfilling this. I also dream of using my story to inspire other women and young people around the word. I love being creative and connecting my passions for the greater good, so stay tuned to see what happens next. Last but not least, as our motto states, I plan to Live Life to the MAX!