Delta Gamma Recognized at Fraternity Communication Association Annual Conference
By Caitlin Soltesz, assistant director for communications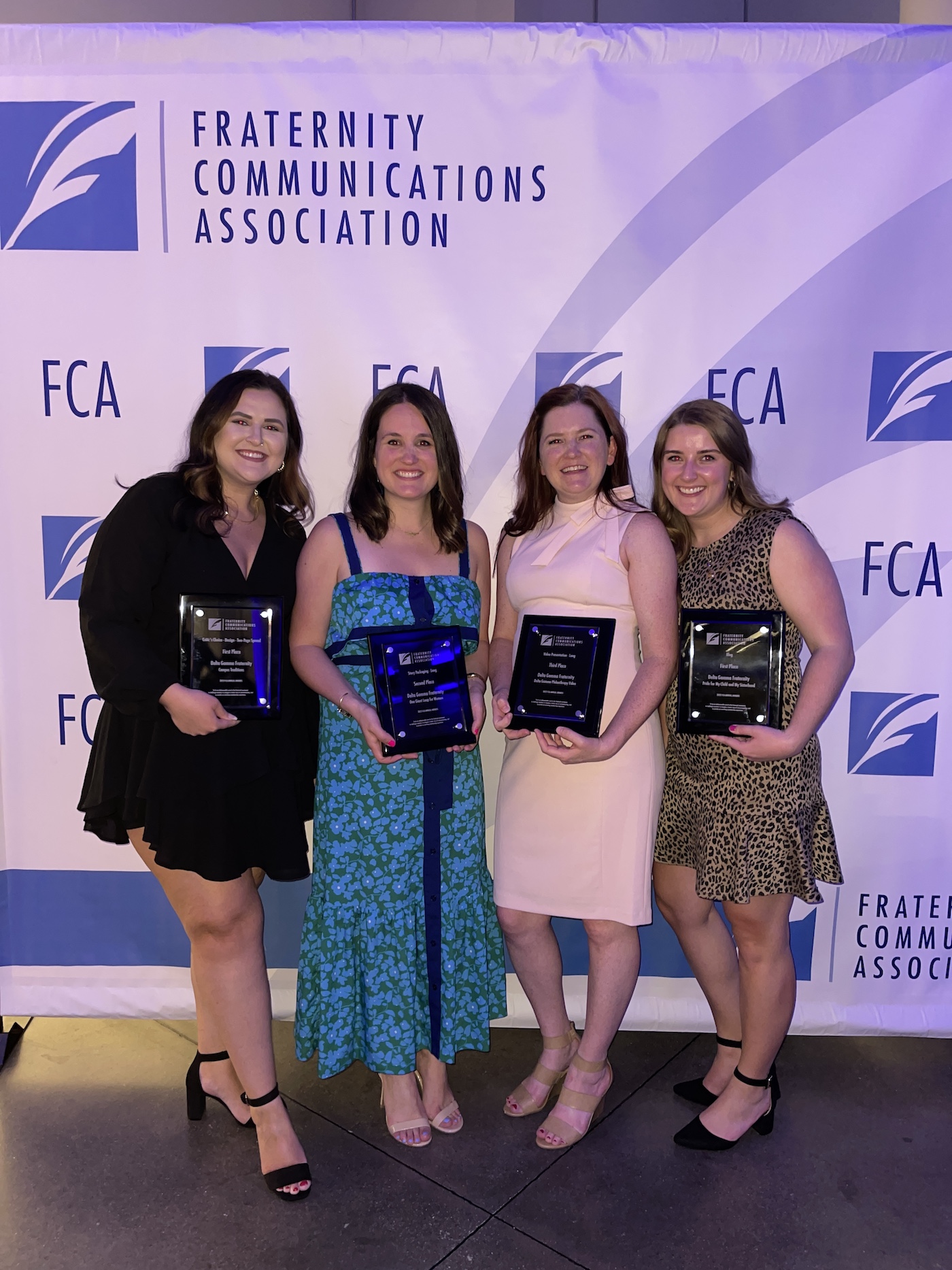 In April, Delta Gamma's marketing and communications staff attended the Fraternity Communication Association (FCA) Annual Conference in Cincinnati, Ohio. During the conference, staff members had the opportunity to attend educational programming, roundtable discussions, networking events and the awards banquet at the conclusion of the week.
Delta Gamma received four awards at the Recognition Banquet for work in 2021.
Pictured, left to right: Digital and Design Specialist Morgan Branson, Alpha Xi-West Virginia, ANCHORA Editor Jayme Crowell, Alpha Pi-Arizona, Director of Marketing and Communications Mallory Borino and Assistant Director for Communications Caitlin Soltesz.
First Place | Two-Page Design
Campus Traditions
This award recognizes excellent two-page design from a magazine, tabloid or other similar spread created during the calendar year 2021. Read the fall 2021 ANCHORA to see the award-winning spread!
First Place | Blog
Pride for My Child and My Sisterhood
This award honors the outstanding presentation of a blog managed by headquarters staff. The blog may be general to the organization, related to a specific topic or presented for a limited audience. Entries should be well designed and easy to navigate with engaging content for their intended reader. Read the blog here.
Second Place | Story Packaging Long
One Giant Leap for Women
This award honors the ability to combine outstanding writing and design concepts to tell a story through creativity, presentation and organization. The article should include additional graphics, sidebar or visual elements beyond the main article. Read the spring 2021 ANCHORA to read One Giant Leap for Women.
Third Place | Video Presentation – Long
Delta Gamma Philanthropy Video
This award honors outstanding efforts in video production. Entries should be at least three minutes or longer. Presentations can be on any topic and should demonstrate creativity, originality and inventiveness. Watch the video here.

What is the Fraternity Communications Association? FCA exists to enhance fraternity communications through the exchange of ideas, experiences and information. As a professional association, FCA is composed of fraternities and sororities, affiliates and associate partners. The organization is unique within the fraternity movement in that the organization, not the individual editor, holds membership. Learn more at their website.